Thamesteel administration 'devastating blow' says MP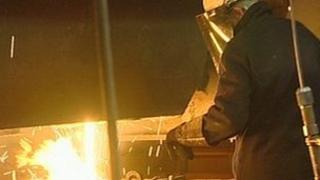 The news the Thamesteel plant in Sheerness has gone into administration, threatening 400 jobs, has been described as a "devastating blow" to one of the most deprived parts of Kent.
Local MP Gordon Henderson said it's an "employment disaster".
Four hundred jobs may not be on the scale of jobs threatened when Pfizer announced it was to pull out of Sandwich.
But its impact will be just as keenly felt as Thamesteel is one of the biggest private firms on the Isle of Sheppey.
The company describes itself as "one of the fastest growing steel manufacturers in the UK" with an annual revenue of more than £100m.
It makes steel bars which reinforce cement used in the construction industry - no doubt the downturn in building projects hasn't helped the company's fortunes.
Mr Henderson has called for an urgent meeting with Business Secretary Vince Cable to discuss the future of the plant.
But, realistically how much can the government do? Much larger firms have gone into administration. Just last week Peacocks, the clothing retailer which employs 9,000 people, called in the administrators.
In a statement the government said: "In the event that there are redundancies, the Government will do all it can to help those affected."
It went on to say: "Clearly the steel industry is facing tough trading conditions as a result of the global downturn. As part of the Autumn Statement the Government announced measures worth around £250 million to help our Energy Intensive Industries, including the steel industry, to reduce their energy bills."
So it doesn't sound as if the government is able to do anything directly to help save Thamesteel. But Gordon Henderson says it emphasises how important it is to secure a deal for the Danish company Vestas to build a wind turbine factory on the island.
Vestas, one of the world's leading wind turbine manufacturers, last year warned the government it will not build a new factory in Kent unless it gets more detail on the UK's plans for renewable energy.
Now may be a good time for the government to come forward with that detail if it's to ensure Sheppey does not become blighted by unemployment.