City mayor elections set for November - if we want them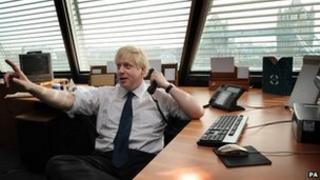 Elections in November are pretty rare, but we could be heading for a kind of Super Thursday this autumn.
The government has announced that mayoral elections for England's 12 biggest cities could be held on 15 November.
They were originally scheduled for May 2013, but have been brought forward to the same day as the elections for new police commissioners.
But there is a hitch. Voters in the cities will first need to decide whether they even want a directly-elected mayor.
That will happen this May with referendums taking place in each city.
'Visible leadership'
So why has the election date been brought forward?
The PM and other ministers are keen on the idea of directly-elected mayors, believing they would offer better and more visible leadership for our cities.
I suspect they hope that this decision will give some momentum to the idea.
As people vote in the referendum, they will know that a mayor could be in place by the end of the year rather than in 12 months' time.
In some cities that momentum already appears to be gathering.
There is a strong campaign for a yes vote in Birmingham, and potential Labour candidates are already being mentioned.
They include sitting MPs such as Gisela Stuart and former cabinet minister Bob Ainsworth.
Yes vote
But in Newcastle, it's fair to say that campaigning has barely begun.
The city's two main political parties - Labour and Liberal Democrats - are not keen on the idea, and are not pushing for a yes vote.
That leaves the Conservatives. They are enthusiastic, but have no councillors and very little political capital in the city.
In addition, to date no strong independent individuals have emerged as potential candidates or cheerleaders for the idea.
The carrot on offer to voters from the government looks limited too at the moment.
The government is promising the 12 cities extra powers over transport, training and apprenticeships and the creation of superfast broadband networks.
But Deputy Prime Minister Nick Clegg has said those powers will come to the cities regardless of whether they vote to have a directly-elected mayor.
It will also be difficult to sell the idea as offering each city its own version of Boris Johnson.
In somewhere like Newcastle, it will be problematic to offer a mayor powers over transport as the main road, bus and rail networks are all run by a transport authority that stretches beyond the city boundaries.
New powers
Policing powers will also be going to new commissioners and not to city mayors.
The government may well have more to offer by way of incentives as we get closer to the polls, but they have said that it will be up to the new mayors to ask for the powers they want.
That might not help to make the referendum decision any clearer for voters.
But perhaps as long as there are some enthusiastic cities, ministers might not worry too much about the odd refusenik.
Ultimately it'll be up to voters to decide whether having an elected mayor will be a boon for their city, an identifiable and accountable individual, or an unnecessary change to the status quo.