Saving castles for the future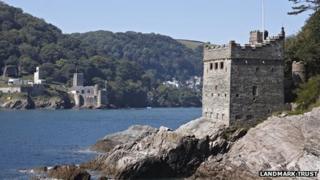 From romantic ruins to royal residences, castles bring drama and beauty to the landscape. But preserving the historic structures is a huge money drain which inspires creative fundraising projects.
Millionaire philanthropist Jonathan Ruffer wants to turn Auckland Castle, the former residence of the Bishop of Durham, into a tourist attraction which will retell the history of Christianity in the North East.
The investment banker said it would cost about £9m "to scrub the castle up" and a substantial amount more to ensure its successful continuation.
For those with a passion for castles, it is a love entwined with money as the historic buildings require constant attention.
Graham Forge and his family are among castle owners who have to find ways of funding the buildings' upkeep.
The Forge family bought Westenhanger Castle in Kent in 1996 and soon embarked on a multi-million pound conservation project, which is still ongoing.
'Something lasting'
Mr Forge said: "We've spent 15 years on restoration and all put our heart and our money into it."
Over the years they received 12 grants for work such as renovating the walls and towers of the 14th Century castle.
Mr Forge said English Heritage in particular had "been brilliant" in providing about £2m.
The retired civil engineer said cash from open days at the castle was "a drop in the ocean" for maintenance and running costs which topped £100,000 a year.
The castle, near Hythe, will host 26 weddings this year, which will be its main source of revenue.
Mr Forge has been surprised by the costs of the castle which he joked "madness" prompted him to buy.
But he enjoys giving guided tours and remains intrigued by the history of the castle which was owned by both Henry VIII and Queen Elizabeth I.
"It's the most historic castle in the country," he said.
Future work will include renovating a 1550 barn, which was expected to cost more than £500,000.
But the economic downturn has seen cuts to funding bodies such as English Heritage, he added.
Mr Forge, who was able to afford the castle after the success of his civil engineering business, does not regret buying the castle despite its challenges.
"I considered it an opportunity to do something lasting," he said. "And when we depart this mortal coil - it will still be there. It will be saved."
He added: "But it does mean my family had to make huge sacrifices... we are not wealthy people, we are pragmatic and know you've got to work hard at it."
Mr Forge said he was lucky that his son John, who lives at Westenhanger Castle, was as committed to the project as him. John Forge now ran the business and had incredible hands-on skills, his father said.
Castle apprenticeships
The fate of retired English lecturer Tom Baker was also sealed when he became fascinated by a castle. Mr Baker could see the ruins of Hopton Castle from his window after moving to Shropshire from Newcastle.
He became interested in restoring the medieval castle which was besieged in a bloody battle during the English Civil War.
"Those not interested in its history had to be persuaded and we formed a trust and got it registered at Companies House," he said.
It took years of effort and paperwork before the trust managed to secure £1.2m from the Heritage Lottery Fund and other groups.
The trust was then able to purchase the castle and spent five years renovating it before it opened to the public last year.
Work has included putting metal braces on the spiral staircase in the north-west tower.
Mr Baker, who was recently awarded an MBE for his work, said the castle was a "very important monument" for its archaeology and architecture, yet part of it would already have fallen if work had not been done.
'Story to tell'
Meanwhile, Mr Ruffer said "nobody knows about" Auckland Castle, which was really a palace, because it had been the serving Bishop of Durham's residence for years.
His vision is for the castle to become as important to people in the North East as its neighbour, the Angel of the North, and a place offering apprenticeships in the grounds to help fight high unemployment.
"I'm personally not into bricks and mortar - I'm a people person," he said. "I want the place to come alive and for places to come alive you have to get a lot people there."
The Landmark Trust is among charities working to save castles around the country. It has 10 castles in England among its portfolio of historic buildings and pays for their restoration by letting them for holidays.
Trust historian Caroline Stanford said they looked for buildings of historical significance with a "story to tell".
Ms Stanford said it was costly and "quite a challenge" to adapt parts of castles for modern living, particularly within the restrictions on listed buildings.
But she added their rich history meant they had to be saved.
"If we don't find a new use then everything will be lost for everybody," she said.
"As a historian I think it's really important to protect our buildings so future generations can learn from them as we have been lucky enough to do."