Job fears as Sheerness-based Thamesteel enters administration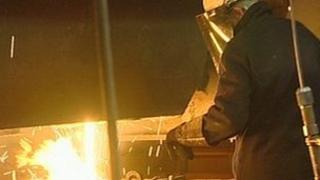 Kent steel firm Thamesteel, which employs 400 people, is to go into administration prompting fears over the future of the plant.
The Community Union said workers at the company in Sheerness received the news earlier.
Local MP Gordon Henderson said he was "devastated" and was seeking a meeting with Business Secretary Vince Cable.
Thamesteel was bought by Saudi Arabian company Al-Tuwairqi Group in 2002. No-one from the firm has commented.
The company describes itself as "one of the fastest growing steel manufacturers in the UK" with an annual revenue of more £100m.
Staff at the plant are expected to be given more information about the future of the firm at a meeting at 11:00 GMT on Thursday.
Mr Henderson said he had been told Thamesteel would go into administration on Thursday.
He added: "It is very, very disappointing news. I feel absolutely devastated for the workers that can see that they might lose their jobs.
"I hope that the firm that comes in will continue to support the steel industry in Kent and I will do what I can to make that happen.
"I'm seeking an urgent meeting with Vince Cable to see what the government can do to help support the site."
Michael Leahy, general secretary of the Community Union, said: "This is devastating news for everybody who works at Thamesteel and for the wider community in Sheerness.
"Community believes that Sheerness steel-making can have a future and we will be doing all we can to save our steel in the coming weeks and months.
"Once the administrators are appointed, we are willing to work with them to deepen and widen the search for an investor and we want to work with anybody who wants to give Thamesteel a future.
"Any investor who did come forward would find a proud and committed workforce dedicated to continuing production at the UK's first mini-mill."
Keith Hazlewood, from the GMB union, said: "We are seeing a march of the makers to the dole queues to join the 28,201 in Kent already claiming jobseeker's allowance.
"Business Secretary Vince Cable has to be proactive by supporting the UK steel industry and finding a buyer for this plant."