James Paget Hospital now 'compliant' after improvements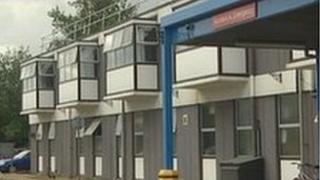 A warning notice imposed over low standards of service at a hospital serving east Norfolk and north Suffolk has been lifted after an inspection.
The Care Quality Commission (CQC) said the James Paget University Hospital, in Gorleston, was now "compliant".
Deficiencies in updating paperwork on patient medication have been remedied but more still needs to be done.
A patients' group wants the hospital to continue improving and said handling of medicines remained a concern.
'New drug chart'
A warning notice regarding patient nutrition was lifted in November.
But a new report after a further inspection expressed a specific concern about management of medicines.
The hospital said it had already undertaken a great deal of work on this issue.
Medical director Bernard Brett said: "The focus has been on keeping paperwork on medications up to date and the development of a quick reference guide for prescribers.
"We have introduced a completely new drug chart to improve our process. Regular audits are taking place using CQC tools for medicines management.
"These check drug trolleys and storage of medicines. In addition, an enhanced training and awareness programme is being given to all staff that prescribe and administer medicines."
Unannounced visits
Interim chairman Peter Franzen said: "We are determined to meet the high standards that our patients expect us to deliver."
Patrick Thompson, chairman of the patients' group, said: "After a traumatic period for the staff and management, we are very hopeful that the measures taken so far will enable the trust to continue along a positive pathway forward and will not allow standards to slip back."
The group is still concerned the CQC had a major issue over the management of medicines.
"Since December we have been carrying out unannounced visits to the hospital to ensure patient safety, dignity and their nutritional needs are being met."