Harry Redknapp 'scoffed at £30,000 tax saving'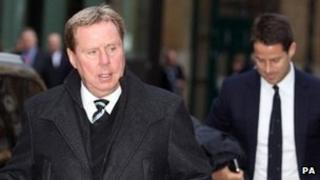 Harry Redknapp told a reporter he had no need to try to save £30,000 by dodging tax, a court has heard.
The jury was played a taped interview between journalist Rob Beasley and former Portsmouth manager Mr Redknapp.
He scoffed at the idea that he tried to save income tax by having bungs paid by Portsmouth chairman Milan Mandaric into an offshore account, jurors were told.
Mr Redknapp and Mr Mandaric both deny charges of cheating the public revenue during their time at Portsmouth.
Jurors heard the interview by News of the World reporter Mr Beasley was recorded the day before Mr Redknapp led Tottenham into the League Cup final against Manchester United in 2009.
Mr Redknapp said: "Do me a favour. I tried to nick £30,000 to save on income tax?
'Shouting over phone'
"Do I need that Rob?"
Mr Redknapp called Mr Mandaric as he attempted to convince the reporter "everything I do, I do above board", jurors head.
In the recording played to Southwark Crown Court, Mr Redknapp, 64, was heard talking to Mr Mandaric, with Mr Beasley listening on another line.
The manager is heard saying: "I spoke to Rob Beasley earlier...you know you paid the income, you paid the tax on that money in America right, of course you did, yeah."
Redknapp was heard shouting over the phone earlier at Mr Beasley as he denied Mr Mandaric's explanation that the deposits in his Monaco bank account were connected with dealings outside football.
Mr Redknapp said: "You're going to write what you want to write...I know what's going to happen Rob and you're all barking up the wrong tree."
He then threatened to sue the News of the World if it said the tax had not been declared, jurors were told.
Mr Beasley, appearing in the witness box, said he did not tell Mr Redknapp the conversation was recorded.
The journalist, who worked as a senior sports writer at the paper between 1994 and 2009, said he wanted to make sure that "I feel 100% accurate".
'Treble strong'
Mr Beasley said later: "I would be more afraid of the News of the World than the police."
The journalist told jurors he used "flattery, friendship... and a little bit of kidology" in talking to Mr Redknapp and Mr Mandaric before his story went to print.
Mr Beasley said he paid a source who was "absolutely not" a member of City of London Police or HM Revenue and Customs.
In one of the recorded conversations, Mr Redknapp said "one day Rob, I'd like to know who done it" and "make sure I reward you...treble strong".
Southwark Crown Court previously heard Mr Redknapp opened a Monaco bank account in the name of "Rosie 47" - a combination of his pet dog's name and the year of his birth - which he allegedly kept secret from his accountant for four-and-a-half years.
The third day of the hearing began with the prosecution claiming that statements given by Harry Redknapp and Milan Mandaric, 73, about the account were "contradictory" and "inconsistent".
It is alleged that Mr Redknapp, who lives in Poole, Dorset, received $295,000 (about £189,000) which he had no intention of declaring for tax purposes.
Mr Redknapp and Mr Mandaric each deny two charges of cheating the public revenue.
The first of the two charges alleges that, between 1 April 2002 and 28 November 2007, Mr Mandaric paid $145,000 (£93,100) into a bank account held by Mr Redknapp in Monaco, to avoid paying income tax and National Insurance.
The second charge for the same offence relates to a sum of $150,000 (£96,300) allegedly paid by Mr Mandaric to the same account between 1 May 2004 and 28 November 2007.
The trial continues.