London 2012: Makeover for Jolly Boatman 'Olympic eyesore' offered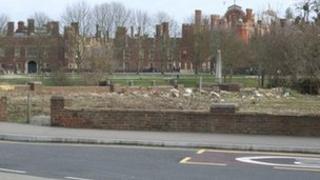 A charity has offered to landscape derelict land on the route of the 2012 Olympic cycling road race across the River Thames from Hampton Court Palace.
Plans for a hotel and flats on the site of the Jolly Boatman pub have been approved by Elmbridge Borough Council.
Historic Royal Palaces wants to give the site, described by some as Surrey's "hot potato", a free "makeover".
Developer Gladedale said it was considering the proposal as it continued talks with the council.
Historic Royal Palaces, which looks after Hampton Court, has offered to clear and landscape the site at its own cost, opening up the space to planted riverside parkland.
The development of the site, which also covers land surrounding Hampton Court railway station, was approved by the council in 2008,. But a long-running campaign by opponents to block the scheme, including a challenge in the High Court, has resulted in delays.
'Disgraceful dereliction'
The plans include a refurbished railway station, 66 new homes, retail and commercial units, a 46-bedroom hotel and a care home.
Gladedale said work on the development was expected to begin in 2013 once planning conditions had been agreed with Elmbridge council.
The Hampton Court Rescue Campaign (HCRC), which has been campaigning for views around the "showcase Tudor location" to be improved, welcomed the offer to resolve the "eyesore".
"For years, this half-acre development site has been left in disgraceful dereliction," it said.
"The site overlooks Hampton Court Palace which will host the last leg of the Olympic torch relay and the start and climactic finish of the cycle race.
"But for the huge crowds that are expected and for the global TV coverage, the rubble-filled, fly-tipped site will form part of the palace's foreground."
In a statement, Gladedale said: "We are considering the proposal in conjunction with ongoing discussions with Elmbridge council to agree the most appropriate way of maintaining the site until work can commence and with specific regard to the forthcoming London Olympics."
The leader of Elmbridge Borough Council, John O'Reilly, added that the council was "pressing for urgent action" and the offer by Historic Royal Palaces could help to improve the local environment.
The 2012 Olympic cycling road race will take cyclists through Walton on Thames, Weybridge, West Byfleet, West Horsley, Dorking, Box Hill, Leatherhead and Esher.