Farmers' concerns over new livestock illness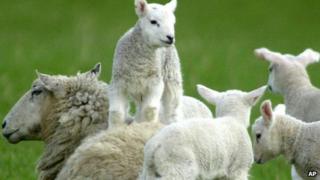 Farmers say they are "very concerned" about a new animal illness which can cause birth defects in livestock.
The Schmallenberg virus (SBV), which emerged in the Netherlands and Germany last year, was confirmed in the UK for the first time on Monday.
Cattle farmer Roger Long said: "We know so little about it. But of course we are concerned and the last thing we need is another virus to come over here."
Mr Long said his farm at East Dereham in Norfolk was "not a million miles away" from one of two sheep farms in the county where the disease has been detected.
SBV has been confirmed at two other sheep farms in England, one in Suffolk and one in East Sussex. The NFU said all the lambs which tested positive for SBV were stillborn or died shortly after birth.
The Animal Health and Veterinary Laboratories Agency (AHVLA), which detected the disease in England, is continuing to monitor the situation.
The agency had asked farmers and vets to "remain vigilant" after the virus was found in Europe.
"Initial tests have identified a small number of cases in Norfolk, Suffolk and East Sussex.
"The European Centre for Disease Prevention and Control say it is unlikely it would cause disease in humans.
"We will continue working closely with the farming and vet industries," a spokesman said.
Meanwhile, AHVLA and the Department for Environment, Food and Rural Affairs (Defra) believe infected midges blown across the Channel were the "most likely cause" of the infection.
It is understood research is also being carried out to discover whether there is the potential for the disease to be spread between animals.
John Collen, who has a dairy farm on the coast near Lowestoft, Suffolk, said he was concerned but added it was "early days" as many questions still needed to be answered.
He said a key question was whether midges had infected UK livestock directly or the disease had been present in imported animals.
Both farmers said SBV appeared to have similarities to bluetongue disease, which was also spread by midges.
Mr Collen said: "I suspect that will be a concern. When we get the warmer weather and midge activity we could see a large infection among the UK herd."
The UK was hit by an outbreak of bluetongue disease in 2007, following several thousand cases across Europe.
But Mr Collen pointed out the Schmallenberg virus had only been detected in sheep in the UK so far and there were a lot of unknowns.
For example, he said if a calf was stillborn as a result of SBV, he did not know how severely its mother would be affected by the disease.
The AHVLA says that miscarriages and stillbirths have been reported among cattle and goats as a result of the virus in Europe, but had mainly been seen in sheep.
In cattle, signs include fever, reduced milk yield, loss of appetite and diarrhoea.
'Be vigilant'
Mr Long went to Melton Mowbray market in Leicestershire the day after news SBV had been detected in England.
"People were talking about it. There was concern but not panic," he said.
He said he had gone to France during its bluetongue outbreak and was shocked by the state of the animals.
"Let's pray this isn't a repeat of that," he said.
The farmer added: "It's (SBV) so fresh, there's no vaccine, nothing prepared to combat it."
Mr Long, 59, said he had been a "farmer all my life" and had had to deal with many diseases and outbreaks.
"We have had everything since 1996; BSE, swine fever, foot and mouth - twice and bluetongue. We have been through it... but we've done a lot to keep things right and I think farms have improved enormously," he said.
His farm still has hygiene practices in place from the bluetongue outbreak, such as washing out vehicles with disinfectant and using dipping bowls.
But he added farmers needed to be vigilant, such as being careful not to import animals from areas in Europe which were affected.
Defra and the NFU have urged farmers to take precautions to prevent infection and report suspicious cases to the AHVLA.