Specialist advisers for muscular dystrophy patients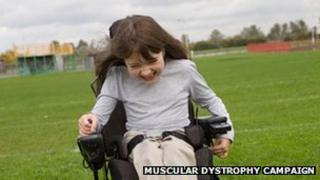 Muscular dystrophy patients in the east of England are to be helped by three specialist NHS advisers.
Patients lobbied for the appointments after the last adviser retired.
Roy South, a patient from Peterborough, said: "We've had virtually eight years of campaigning, fighting or asking for a replacement."
In 2009 a study showed life expectancy for neuromuscular patients in the east of England was significantly below the national average.
Life expectancy for men with Duchenne muscular dystrophy had fallen to 20 years, compared with an average age of 30 for men in the north east of England.
The report was written by seven specialist doctors based at NHS hospitals in Cambridge, Norwich and Bury St Edmunds.
'Muscle-wasting conditions'
Since 2009 the Muscular Dystrophy Campaign has backed the patients' campaign for the reintroduction of care advisers.
Nic Bungay, its director of campaigns, care and support, said: "In the east of England there are now 5,000 adults and children with muscle-wasting conditions.
"For far too long people like Roy, and other families, have had to go without specialist care for their condition, like physiotherapy, access to equipment and support from a whole team of experts.
"It's important to make the point that this actually saves the NHS money in the long run, because investment in these specialist services helps to keep people out of hospital so it saves money and improves patients' lives as well."
The East of England Specialised Commission Group is funding the new appointments.