Harry Redknapp 'kept offshore account secret'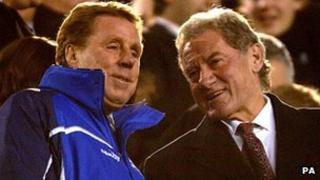 Harry Redknapp did not tell his accountant or bank about an offshore account for years, jurors have heard.
He is accused of receiving secret payments from former Portsmouth chairman Milan Mandaric, 73, while he was manager at the south coast club.
The Tottenham boss only revealed he had the Monaco-based account after being asked by a Premier League inquiry, Southwark Crown Court heard.
Mr Mandaric and Mr Redknapp, 64, deny charges of cheating the public revenue.
Previously jurors heard how Mr Redknapp received a percentage of net profit from transfers during his time at Portsmouth.
The prosecution also read out transcripts of conversations Mr Mandaric and Mr Redknapp had with a News of the World reporter in which they denied the manager was paid "bungs".
'Complete ignorance'
On the second day of the trial, the jury heard Mr Redknapp kept his Monaco account a secret from his accountant for four-and-a-half years and from his bank relations manager for five years and eight months.
The court heard Mr Redknapp had told the Premier League's Quest inquiry into player transfers that he had an accountant who invested the money in his Monaco account for him.
The prosecution said Quest later received a letter from Mr Mandaric saying he had opened the Monaco account for Mr Redknapp and invested money there for him.
John Black QC, for the prosecution, said Mr Redknapp "was feigning almost complete ignorance" about the existence of the account while the Quest inquiry took place in 2006.
The first mention of it came when Mr Mandaric was asked by the Quest inquiry to provide details of payments to Mr Redknapp, Mr Black said.
He asked the court whether Mr Redknapp could have been unaware of the account even though he had flown to Monaco two years earlier to set it up in the name of his dog, Rosie.
He said: "The existence of the bank account was not registered to Revenue and Customs for a period of six years, two months... after Mr Redknapp was first arrested and questioned in the course of this investigation."
Excerpts of letters were read to the court about the origins of the account. One, the prosecution said, was sent from Mr Redknapp's accountant to his bank relations manager asking how the Monaco account could have been set up without Mr Redknapp's knowledge.
'You owe me'
The jury was also read transcripts from two taped interviews by the News of the World in which Mr Mandaric said the Monaco account was "nothing to do with bonuses" and "not money from football".
The court heard Mr Redknapp told the reporter that money - a bonus paid to him for selling striker Peter Crouch - had been paid into an offshore account.
This was because Mr Mandaric did not have a UK bank account, so had to pay from a US account into the account opened for him in Monaco.
Mr Redknapp is alleged to have said to the reporter: "I was due 10%. They paid me 5%. I said to Mandaric, you owe me 10%, not 5%. Mandaric said don't worry, I'll sort it."
When the reporter asked Mr Redknapp if it was a bung, Mr Redknapp said: "Don't say bung. How can it be a bung when it was paid by the chairman?"
The prosecution said that during a police interview, Mr Redknapp said Mr Mandaric had told him that the Monaco investment had been "wiped out".
Mr Redknapp told police: "I never mentioned it again. I just thought, that's history. He's had me. Maybe he never put the money in. I don't know."
The court heard that Mr Redknapp told police Mr Mandaric had control over the account. He said Mr Mandaric "wasn't a man to argue with" and that he "never had a clue" how much money went in the account.
Jurors heard that Mr Mandaric told police that the money in the Monaco account was a loan and that he had asked Mr Redknapp to repay it.
'Transparent device'
But Mr Redknapp told police it was not a loan, the jury heard. He also told officers that he did not tell his accountant about the account because he thought there was no money in it.
Mr Black told the jury that Mr Mandaric's lawyer sent a letter to Mr Redknapp's solicitors a month after giving a "no comment" interview to police on 8 June 2009.
The letter said: "Mr Mandaric requests that 145,000 US dollars is repaid by Harry as soon as he is able to arrange it, to Mr Mandaric's following account."
Mr Black said: "The Crown suggest this could be a transparent device by Mr Mandaric to attempt to create an impression that the money paid by Mr Mandaric into the Rosie 47 account had only ever been advanced by way of a loan."
On Monday, the prosecution told the court Mr Redknapp received $295,000 (about £189,000) which he had no intention of declaring for tax purposes.
He was paid the "bungs or offshore bonuses" by Mr Mandaric, it was claimed.
The trial continues on Wednesday.