Police commissioner rivals emerge ahead of autumn poll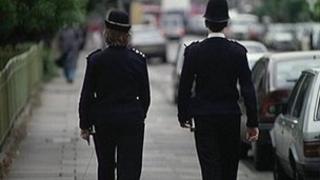 For those of us who enjoy elections, there's a treat in the offing in 2012.
As well as the local elections in May, there'll be another electoral contest to look forward to in November.
That's when people will be asked to vote for the new police commissioners for the first time.
These are the individuals who will replace police authorities as the political overseers of law and order across the country.
Hire and fire
But while political wonks like me might be enthusiastic, there's not much evidence of public excitement building yet.
Yet the commissioners will have the power to hire and fire Chief Constables, manage the budget and set policing priorities.
There has been plenty of scepticism though about whether having elected commissioners is a good idea.
Newcastle councillor and Labour local government spokesman Lord Beecham believes they will be far from democratic.
He has said: "It doesn't give power to the people. It gives an enormous amount of power to one person."
He's also worried that a commissioner is likely to come into conflict with Chief Constables if their political priorities clash with operational matters.
The government says there will be checks and balances in place to prevent such clashes.
Even after being elected, a police commissioner will have to answer to a Police and Crime Panel made up of local councillors.
And enthusiasts believe they could make a difference to crime levels.
Hexham Conservative MP Guy Opperman was waxing lyrical about the idea on his blog after a meeting with London Mayor Boris Johnson.
Boris already has the powers that will be vested in a commissioner.
Guy Opperman said: "His role as the police commissioner has shown crime reduction on a significant scale, with knife crime deaths cut by a half, the murder rate down 25%, bus crime down 13%, and a massively safer Tube."
Elections due
Despite those reassurances though, there have still been plenty of other critics of the idea, from former police officers to Labour politicians.
And it has to be said that forces in the North East have also seen significant falls in crime without having a commissioner in charge.
But the reality is that these elections will now be happening, and so even opponents of the idea are beginning to engage in the process.
That includes Labour, which is beginning to consider who its candidates might be.
Gateshead council leader Mick Henry, the current chair of the Northumbria Police Authority, hasn't ruled himself out, and I understand Newcastle councillor Henri Murison is a potential rival.
Former Deputy Chief Constable Ron Cook has been mentioned as a potential Labour candidate in Durham.
And this week I've been to interview another potential candidate in Cleveland.
Hartlepool's elected mayor Stuart Drummond has recently taken over as chair of the area's police authority.
This week the authority is hosting an event to raise awareness about the election in November.
Stuart Drummond has some qualms about the idea, but overall is an enthusiast.
He believes police commissioners offer the same potential visibility and accountability as he believes he's had as an elected mayor.
But might he be interested in standing? He certainly didn't rule it out altogether.
He said: "I honestly do not know at the moment. I have for a big job on in Hartlepool, and I will be holding the reins at the police authority for 10 months while we go through the transition.
"I personally haven't planned my life that far ahead, I'm just trying to do the job in hand. We will see what happens."
Potential candidates
The other name people are bound to mention in Cleveland is Middlesbrough Mayor Ray Mallon. After all, he is a former police officer.
But as his term of office in Middlesbrough won't end until 2014, it seems unlikely that he'll stand.
Other names mentioned to me include Labour and Conservative councillors in Teesside.
The government is hoping that the role will attract a different kind of candidate though, and not just party placemen and women.
It's always going to be tricky though for any independent candidate to come through unless they have a really major political profile.
There may well be some controversy to come though about the costs of creating commissioners at a time when police budgets are under pressure.
Apart from the costs of the elections, each commissioner will be salaried.
In Northumbria, the recommended annual pay is £85,000, in Cleveland, Durham and North Yorkshire, it's £70,000, and in Cumbria it's £65,000.
And there may well be some interesting issues to come in force areas like Northumbria.
The population, and therefore the voters, are concentrated in Tyne and Wear. So will there be a danger that policing in rural Northumberland could be less of a priority for an elected official?
Sunday Politics will be discussing the merits of police commissioners on 22 January at 12pm on BBC One with Stuart Drummond, Guy Opperman, Lord Beecham, and Newcastle North MP Catherine McKinnell.