Will rebel Euro MP Roger Helmer resign?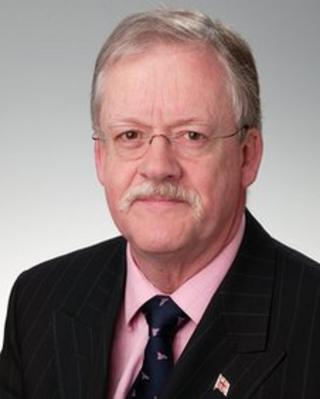 Will he or won't he? That's the question now being asked of Tory rebel Euro MP Roger Helmer.
Last year, the East Midlands' controversial and outspoken MEP announced he was to resign by Christmas.
He had wanted his political and Eurosceptic soul-mate Rupert Matthews to succeed him.
But there's a political row.
I understand senior head office Conservatives are unsure whether Mr Matthews should automatically slot into the vacancy.
So what's the fuss?
Raised eyebrows
Rupert Matthews is a publisher, author and a would-be MEP for the East Midlands.
Under European Parliament rules, when an MEP resigns between elections there's no by-election.
The party's candidate next in line - on its regional list of candidates - fills the vacancy. It's normally routine and non-controversial, but not this time.
At the last Euro elections, the East Midlands returned two Conservative MEPs: Roger Helmer and Emma McClarkin.
Rupert Matthews was third on the Conservative list, so should be next in line to fill any vacancy.
But Rupert Matthews, now in his early 50s, appears to worry Conservative HQ.
The publisher's website illustrates the range of his writings on historical and military events.
But his books on alien encounters and UFOs have raised some political eyebrows.
Left wing blogs highlighted a volume on political correctness that his firm published - it featured a golliwog on the front cover.
'Democratic mandate'
There are other reasons too. Some senior Conservatives may be worried that Rupert Matthews is another Roger Helmer-style rebel and maverick.
That helps to explain why the Conservative Party called him to a series of high level meetings. He was quizzed over his suitability.
"Rupert was all ready to take over from me," Roger Helmer told me.
"Suddenly, central office appeared to have reservations about the succession process. All I'm asking them to do is to observe their own rules."
The party says it has no comment because there's no vacancy yet.
Helmer was hinting strongly of formally resigning this week while the European Parliament was in session in Strasbourg.
He's certainly cranked up the rhetoric.
"This is not special pleading on behalf of an old friend," he added.
"There is an established procedure. Three thousand party members voted for our candidates' list and one million East Midlands voters voted in the 2009 election for that list.
"Rupert has a democratic mandate and a right to take that seat.
"What message does it send when the party chairman can turn around and say you were selected properly at the time, but you're not flavour of the month now - and so we're going to get rid of you?"
A-list protégé?
Rupert Matthews is still waiting to hear from Tory high command on whether he's got the job or not.
Matthews and Helmer have maintained a high profile double act at the Strasbourg parliament this week.
The would-be MEP isn't speaking publicly on the controversy. He doesn't want to burn his boats among party officials and Downing Street.
But Roger isn't so shy.
Plans to formally resign during the Strasbourg session were pulled.
Instead, he has set the party chair Baroness Warsi a two week deadline to confirm Matthews as an East Midlands MEP.
"I am not prepared to stand aside for some A-list Cameron protégée from St John's Wood," he said.
Then comes a surprise announcement:
"If this is not resolved, I shall withdraw my offer to resign."
He added: "If I am obliged to stay in place until the next elections in 2014, I shall feel no further sense of obligation or responsibility to the party."
The blue touch-paper is ready to be lit.