Cash boosts Wey & Arun Canal Trust bridge repairs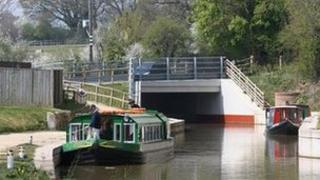 A charity working to restore a canal that runs through Surrey and West Sussex has been given more than £6,000 towards repair work on a bridge.
The Wey & Arun Canal Trust (WACT) has been given the funds to finish building new brick parapets for the Loxwood High Street Canal Bridge in Sussex.
It said the locally-made bricks were being made to match the nearby 17th Century Onslow Arms pub in Loxwood.
The trust said it had raised more than 80% of the funds needed for the work.
Project 'falling into place'
It has also previously received £5,000 from the Chichester District Community Chest and £7,500 from its "Buy a Brick" campaign.
WACT chairwoman Sally Schupke said the project had been high on the trust's agenda for some time.
She said: "Everything is gradually falling into place."
And she added: "Our goal of putting the finishing touches to the Loxwood High Street bridge has never been more achievable.
"We now just need one final push to raise the remaining money and start the work."
The trust said most the of the waterway was no longer navigable but it was aiming to restore and recreate a direct water link between London and the South coast.
The 23-mile (37km) canal runs through Shalford, Bramley, Cranleigh and Dunsfold in Surrey, and Loxwood, Wisborough Green and Billingshurst in Sussex.