Norfolk County Council makes cuts yet keeps spending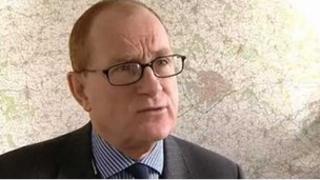 Oddly, a recent opinion poll conducted by MORI in Norfolk recorded a 7% increase in satisfaction levels with the council.
What marks this out as singular is the fact that last year Norfolk County Council made unprecedented cuts, axing its youth services and slashing staff numbers.
Its Conservative leader, Derrick Murphy, believes it shows that his plans to radically restructure the authority are not only working but have popular support.
It bolsters self belief as he delivers this year's budget. He declares that it "helps the most vulnerable and delivers what the people of Norfolk really need".
His aim is not only to save large sums of money, every authority has to do that, but to continue to invest in the things which people believe are important.
Budget plans
The proposals for 2012/13 make £44.5 million of savings, while at the same time spending at extra £43 million.
Somewhat contradictory? Not if getting young people into work is your priority.
Under the plans, funding for youth services will go altogether.
The subsidy for park and ride and bus travel for young people over 16 will be cut.
Fewer children will assessed for statements. School music will receive less funding.
There will be a shake up of adult social care provision and another 360 job losses.
It is quite a list.
On the plus side, there will be more money for road improvements. More money to create apprenticeships and job opportunities for young people and more money to provide more places for children in care.
Mr Murphy believes that most people will be able to cope with paying a bit more to travel on the buses or for their children to learn music, and will be happy to let the Big Society play a bigger role in running youth services.
In return he will have more money to spend on vulnerable children, helping youngsters find jobs, and keeping the county's roads in good condition.
'Loose change'
The Labour party says it is "stunned" by the budget and claims that the council shouldn't be cutting so much, when it has so much money left over to invest in new projects.
George Nobbs, the Labour group leader, welcomes the extra spending but says: "It's like being mugged and left with loose change."
Of the £43 million savings, 45% have come from efficiencies; the better procurement of services and cutting back on bureaucracy.
The remaining 55%, however, will have to come from cuts in funding and that will be painful.
The Conservatives on the County Council, their numbers swelled by three defections over the last year (two from the Lib Dems and one from the Greens) believe this is the way forward for local government.
Their approach is keep investing in the important stuff but with less money available, and think very carefully about what services you support.