Dungeness beach shingle recycling opposed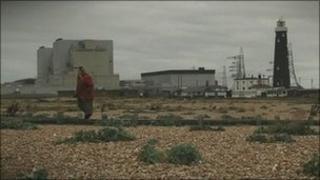 More than 1,600 people have signed petitions opposing plans to protect the coastline by moving thousands of tonnes of shingle on Dungeness beach.
Kent County Council planning officials are visiting the Kent site and holding a public meeting in Lydd.
EDF Energy and the Environment Agency want to move the shingle to protect the nuclear power station and Camber, in East Sussex, from erosion and tsunami.
Campaigners against the plans have submitted two petitions.
'Marsh could disappear'
Ken Thomas, Dungeness Estate Residents' Association chairman and a local fisherman, said the residents' main objections were that they were being made to "live in a quarry".
Mr Thomas also said residents wanted proper sea defences, such as groynes, rather than shingle recycling.
Ian Nunn, Environment Agency project manager, said: "The problem is the shingle will always move west to east.
"Some of the shingle we take from Dungeness, we take right back to Camber, where it performs very important protection for Camber, and we are protecting about 4,000 properties."
Mr Nunn also said that if the work was not done, the sea would erode back inland. He added: "After a period of time, with climate change heading our way, the Romney Marsh would gradually disappear back into the sea."
'Dust and noise'
Dungeness, one of the largest shingle landscapes in the world, is a designated National Nature Reserve, Special Protection Area and a Special Area of Conservation.
Shingle has been used to protect the power station since it was built in the 1960s, but since 2007 it has been brought in from elsewhere.
Under the plans, shingle would be taken from an area east of Dungeness Point as a cheaper option.
Council papers said the authority had received a petition of 1,494 signatures, another signed by 128 people, and 200 letters of representation.
Objections included loss of access to the beach, negative impact on tourism, impact of lorries on residents, damage to roads, and dust, noise and vibration.