Nestle announces 230 jobs to go at Hayes Nescafe plant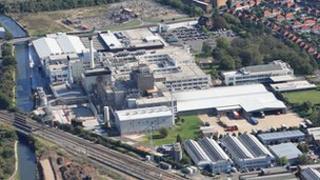 Confectionery giant Nestle is to close its factory in west London with a loss of 230 jobs.
It said the Hayes plant, where Nescafe coffee is made, cannot be developed for the firm's future needs.
It is hoping employees will move to the Tutbury site in Hatton, Derbyshire, about 130 miles away.
John McDonnell, MP for Hayes and Harlington, called it "a devastating blow for the economy and community".
'Sorely missed'
Nestle said that a three-month consultation with workers has begun.
But Mr McDonnell said he believed the company had "made up its mind" and that he had met with employees and trade union representatives.
He said he wanted to ensure people who stayed working at the factory until 2014 were "properly compensated" and that those who do not move to Derbyshire receive the re-training they may need.
He said: "Nestle has been part of our local history, providing skilled jobs to local people. It will be sorely missed."
He added it was one of the area's last manufacturing sites.
Nestle said that the moving of operations to Derbyshire would be a boost for the Tutbury plant, which will receive a further £200 million investment.
Paul Grimwood, chairman and CEO of Nestle UK & Ireland, said: "We are creating over 400 coffee manufacturing jobs at Tutbury and we will therefore have alternative jobs to offer our 230 employees in Hayes.
"We hope that as many of our employees as possible will remain with us at Nestle."
But Mr McDonnell, of the Labour party, said: "A limited number may take [relocation] up but a sizeable number will be looking for work when unemployment is going up."