The fight to beat the metal thieves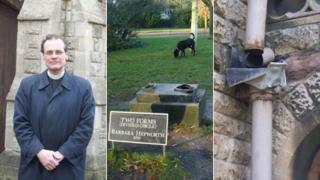 Along with his usual church-related daily tasks, the vicar of St Augustine's Church, in Birmingham, has had to add checking the place of worship's roof to his list.
"You quite often get damage to the stonework as well from people removing the lead and climbing around," the Reverend Matthew Tomlinson said.
The 19th Century church, in Edgbaston, has been targeted by metal thieves six times in two months, something Mr Tomlinson said was "pretty disheartening" for both him and his parishioners.
The vicar said that despite being based at the church for 11 years, the lead thefts at the end of last year were the first he had encountered.
"We replaced the stolen lead and it was stolen again four or five days later," he said.
The church was one of dozens in the city targeted last year by thieves attracted by the rising price of non-ferrous metals.
Lead prices alone have tripled since 2003, according to church insurer Ecclesiastical, which received more than 2,500 claims last year.
Now, the House of Commons is to hear further calls for new laws to tackle the growing problem of metal theft which counts hospitals, historic buildings and the rail network among its victims.
The thefts at St Augustine's have already cost £6,000 and Mr Tomlinson said it was now behind in its quota payments to the diocese as a result.
"It's not just local opportunistic criminals - it's very efficient," he said.
The vicar said the thieves had been "particularly skilled climbers" who had not used ladders.
A national taskforce was set up in November to tackle the metal theft problem following a £5m boost from the Treasury.
The initiative is being led by British Transport Police (BTP), which have seen metal worth £13m stolen from railways over the past three years.
Meanwhile, Network Rail figures show such thefts led to 949 hours of delays in the South East alone in 2011, resulting in more than £3.6m compensation.
The BTP has called for a ban on cash transactions to deter or trace those trading in stolen metal.
And more than 50,000 people have so far backed an e-petition calling for the UK's £5bn scrap metal industry to be made a "cashless" trade.
The Home Office has said the option was being considered.
Graham Jones, Labour MP for Hyndburn, Lancashire, is among those backing a change in the industry. His Metal (Protection) Bill is set to get second reading on Friday.
Law 'not working'
However, Mr Jones said cashless payments would only work as part of wider legislation to increase enforcement.
"The problem is the 800 to 900 unregistered scrap dealers - which could just be someone with a skip at the back of private premises - and that these all should be licensed," he said.
He said metal theft was the "opportunistic crime of the moment" and the "outdated" Scrap Metal Dealers Act of 1964, was not working.
The MP said he wanted scrap dealers to have personal licences, similar to those issued to cab drivers.
Mr Jones, who was prompted to take action by the effect of metal thefts on electricity suppliers in the North West, said he was "optimistic" legislation would be passed soon.
Elsewhere, managers at Simply Recycling Solutions (SRS), which run four scrapyards in the South East, said they agreed the main problem was with unregistered dealers.
Director Sonja Robinson said the firm had taken a wide range of action to deter people dealing in stolen metal, including installing CCTV cameras which record transactions and noting car number plates and identification.
She said police could send scrap dealers alerts about stolen metal, or a database could be set up for them to check.
However, she said officers had told her the resources were not available for such measures.
She said cashless transactions would simply boost the black market while incurring extra banking charges for legitimate scrap dealers.
"No-one pulls up with a van full of manhole covers - it's just not like that," she said.
"We mainly get plumbers and electricians - hard-working people who have been coming to us for years."
Mr Tomlinson said he also believed tightening the law over scrap metal sales would have little impact on organised gangs who he believed "melted down" stolen metal from churches like his rather than sold it through local dealers.
He added: "You go through all emotions and end with a final resignation that it's the times that we live in."