Chancellor defends localised public sector pay deals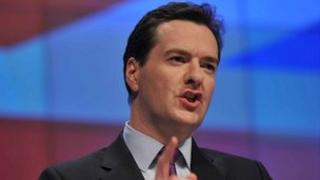 There are claims that teachers, nurses and health workers in the north of England could see their pay cut under government plans.
Proposals to end the practice of national pay bargaining have prompted fears that some workers will find themselves on the wrong side of a North-South divide.
Ministers believe public sector salaries should be more closely linked to average wages in the local labour market.
Pay differences
In Kingston-upon-Thames, workers in the private sector earn on average more than twice as much as staff in its northern namesake - Kingston-upon-Hull.
Although many London-based staff receive a weighting allowance, most public sector staff are subject to the same rates of pay whether they work in the north or the south.
The Chancellor has announced that the government is looking at salaries being negotiated at a local, rather than national level.
Speaking in Leeds, George Osborne said: "What we're trying to do is make sure that pay is fair and that it is right for the local economy.
"We've already introduced it in the courts service, they already have local rates of pay, so we'll be asking the independent review bodies whether this is the right thing to introduce more widely in the public sector."
Labour markets
However, the move is opposed by teachers such as Emma Hardy, who works in a primary school in East Yorkshire.
Speaking to the Sunday Politics in Yorkshire and Lincolnshire, Ms Hardy said: "George Osborne has already said there is no extra money to fund this.
"What instead he must be doing, if there is no more money, is either putting a pay freeze on people who live in poorer areas or giving us a pay cut."
The Public Pay Review bodies will now look at the options for making wages more responsive to local labour markets, with a report due in July.
Following the recent strikes over pensions, the proposed scrapping of national pay bargaining could spark round two in a fight between the public sector unions and the government.