Labour warns of a 'trap' over council tax freeze cash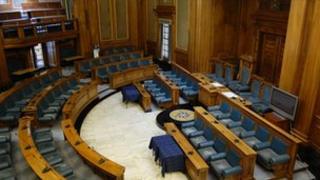 The annual budget round that sets your council tax is going to be tougher to fix over the next few weeks.
The government wants increases frozen for another year and is even offering town halls a cash incentive.
You might expect hard-pressed councils to welcome that with open arms. But not a bit of it.
The Conservative-led coalition faces a familiar critic leading the charge. Labour-run Nottingham City Council has rejected the extra money.
And this is why...
Impact on services
"Oh, it's a trap," says Councillor Graham Chapman, Nottingham's deputy leader.
"If we take the money, it's going to cost us and the citizens of Nottingham a great deal more money further down the line.
"It's like taking out a pay-day loan and paying 40% interest a year. That's the trap."
Nottingham's council tax is set to rise by 3.4%.
Accepting a freeze, Labour says, would mean it getting lower government funding the following year.
Councillor Chapman says it doesn't take into account the huge bill for council tax benefit payments for low income households.
"Without increasing the council tax, we will lose between £800,000 and £1m a year. That's big money which has a direct impact on delivering crucial services," he told me.
Business style
It's just a short 10 minute drive across the city's Trent Bridge to Nottinghamshire's County Hall.
You won't hear talk of a political trap here. It's two and a half years since the Conservatives took control.
A year before deficit reduction dominated our lives, Nottinghamshire's Tory leader Kay Cutts controversially set the pace for cost cutting and a more business style approach to running local government.
It's now the third year running that her shire county has frozen council tax and it welcomes the cash support from the Chancellor George Osborne to deliver it.
"We've been offered £7.7m extra this year to put into our budget. That means we don't have to make as many savings we expected to make," she said.
"Also we won't have to ask the public to put their hands in their pockets.
"Quite honestly, I think it would be morally wrong to put the council tax up, especially when we've been offered money by the government to keep it down."
In Leicester, as in Labour Nottingham, the government's cash offer to freeze council tax has been turned down.
Its Labour Mayor Sir Peter Soulsby is planning a 3.5% increase.
"An increase of 1% in council tax produces £1m in Leicester," he told me.
"If we took the tax freeze grant, we would be getting £2.5m extra in our coffers but we would have to cut £3.5m the following year and over the years to come, a further £10m.
"This freeze is a trap, there's no other word for it," he added.
Political will?
On this issue, the local government minister Bob Neill is taking no prisoners.
"I think it's very disappointing that Leicester is taking that attitude," he said.
"Cities like Leicester get four times more money than comparable authorities for providing the same services. They are funded to reflect the local demands.
"But efficiencies can and are being made by local authorities.
"Many councils have been able to save money and freeze their council tax and in some cases to reduce council tax.
"So I think there's a lack of political will on Leicester's part.
"Remember council tax doubled under Labour and it remains a real issue of concern for many people."
In the past, ministers have used legal action to 'cap' council tax increases deemed as excessive.
Now, council tax increases over 3.5% will automatically trigger a local referendum.
Local voters will have the final say.