Gravesham council to oppose new Thames crossing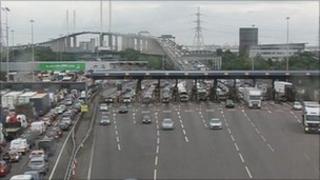 A row has broken out between a Kent borough council and the county council over a possible new Thames crossing.
Gravesham Borough Council leader John Burdon said he opposed a crossing from Gravesend to Essex.
He said Kent County Council (KCC) had removed the crossing from documents outlining plans for the next 20 years, and "slipped it in an appendix".
KCC said the final decision would be taken by roads minister Mike Penning and not by the county council.
Mr Burden said: "We are happy with the general thrust of the document, but we will not accept the bridge going through greenbelt and the special scientific interest area of Gravesham."
'Comments noted'
He said the issue came down to trust and that the county council said the government would not be building the crossing through Gravesham.
"How can you trust people that are saying one thing and have a document that says something else?" he said.
Brian Sweetland from the county council said the decision would be taken by the minister.
He said: "I have said to Mike Penning that we do need a solution to the problems at the Dartford crossing urgently so we will be looking for a solution that could be built in five or six years."
He said the Vision for Kent document "makes one very small reference to the lower Thames crossing" and it would be discussed at meeting on 8 February where "Mr Burden's comments would be noted".
In November, Mr Penning said a new Thames crossing would alleviate congestion at the tolls caused by "the success" of the M25.
He said: "We are very aware of the congestion at the tolls.
"Most of the congestion is caused by the barriers, which is an archaic method of collecting tolls, and we will introduce free-flow tolling as soon as we can."