HS2 to bisect Burton Green village in Warwickshire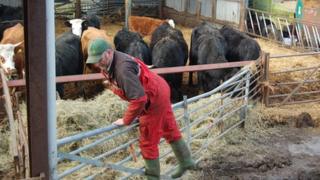 The route for the proposed £17bn high speed rail route between London and Birmingham goes through the village of Burton Green, near Kenilworth, Warwickshire.
It follows a disused railway line and cuts across Cromwell Lane. Amendments have already been made and the line will go through a tunnel where it is close to houses.
Felicity Davies' home lies within sight of the route.
She has taken part in anti-HS2 protests and said: "Sometimes when I think about it, it makes me feel physically ill."
One of her greatest concerns is that it could destroy The Greenway - a tree-lined walkway that follows the line of a disused railway track - which currently bisects the village.
The former Woodland Trust member said: "The Greenway is beautiful, I take my granddaughter walking down there and it has to be preserved for the next generation.
"We could lose that, and all for what? To save 20 minutes on a journey you could make on the Chiltern Line anyway.
"I don't like change though, that's my problem."
'Not affected'
Her husband Keith said he took a different view.
"You'll still be able to go walking there, it's not going through all of it, just one section and it won't really be affected anyway because they are going to build a tunnel beneath it.
"Most of the people around here will be dead before it is up and running so in a way, it doesn't make any difference," he added.
Richard Smith, a 39-year-old arable and beef farmer, has lived at Burton Green Farm his entire life.
He said he was not worried about the effect on the village but the high-speed rail plan duplicated existing services for little extra benefit.
"I can see the point for commuters during Monday morning rush hour, but who are all these people who are supposed to be taking this the rest of the time? They reckon there will be a service running every four minutes or so. I can't see that happening.
"Perhaps if it ran from Birmingham to France and linked up with the Channel Tunnel to the rest of Europe, then it would be worth it but for shorter journeys, I can't see the point."
Accountant Steve Kingman, 47, lives further along Cromwell Road. His firm has offices in Coventry, Birmingham and London, which should make him one of HS2's target customers, except that he too will not be using it.
He said: "My company wouldn't pay those prices for me. It might help politicians with their MPs' expenses to zip around the country but companies and the rest of us are going to want to take cheaper travel options.
"I travel less business-wise than I used to now that I can video conference and use emails and telephone conferencing. When I have to travel I don't mind the extra 20 minutes, because I can work on my laptop."
Through garden
A few doors down, 63-year-old John Levett has made his views on the subject clear for all to see, prominently displaying "Say No to HS2" banners on his house and garage.
He is a member of the Burton Green HS2 Action Group and said he was sceptical of the business need for the link.
He said he did not believe it would bring new jobs to the West Midlands, because the French equivalent had not solved Lille's unemployment. He said this was still higher than in most other parts of France despite the arrival of high speed rail.
The experience of campaigning against the plans has left him wholly disillusioned with the democratic process in England too, he said.
"Once it's installed it probably won't be too bad, I imagine it will be quite liveable because of the tunnel, it's the construction phase that will be awful," he added.
Mr Levett had hoped to downsize but said he held out no hope for selling his house because of the HS2 plans.
Despite being vehemently against it he said: "In a way I hope that it does go through my garden because if it goes through part of your property you can get the government to buy the whole plot. That's probably the only way we are going to be able to move now."
Some estate agents believe the development could help home owners in the neighbouring village.
Anita McKeogh, director of Connells Estate Agents in nearby Balsall Common, said: "For those who live too close to the line it will have a negative impact on their ability to sell, but for other people in Balsall Common I think it could help house prices.
"Homes have been selling well here and we had a good year last year.
"People want to buy here because of the good schools, it's close to the motorway and close to the train stations too.
"You can get to Birmingham from Berkswell train station in 15 minutes and then pick up the high speed rail, so yes, it could make it more desirable to have better rail connections."