Metal thefts: MPs demand tough new safeguards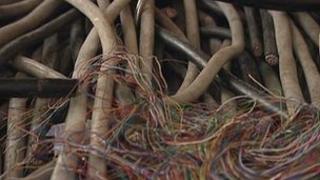 It's a sign of the times and a depressing reflection of economic conditions here that our biggest export earner to China is not Land Rovers, Jaguars or JCBs, but scrap metal.
With soaring demand for metal in the Far East has come an equally rapid growth in metal thefts.
Hardly a day goes by, it seems, without reports of chaos on the rail network because of copper wiring thefts from signalling equipment, or a church interior being ruined by leaks because lead has been stolen from the roof.
'Metal laundering'
The Conservative MP for Dudley South, Chris Kelly, says much of the stolen metal is being 'laundered' by unscrupulous dealers whose ill-gotten gains are infecting the industry.
Supported by some of the most respected metal trading companies, Mr Kelly recently became the chairman of an all-party group of MPs and peers demanding tough action to combat this growing illegal trade.
For our first edition of the Sunday Politics programme in the Midlands, we have carried out our own inquiries to establish the true extent of the problem.
Our Freedom of Information Act requests have produced some alarming statistics.
Our region's largest police force, the West Midlands, reported 2,600 thefts in 2008-9 of metal valued at £6,265,793.
During the past year they say there were 17,107 thefts of metal worth £27,763,246.
The neighbouring West Mercia force reported a 95% rise in the number of metal thefts last year compared with 2009-10.
It all adds up to a major headache for the British Transport Police who face the growing challenge of ridding the nation's infrastructure of this growing menace.
Potential solutions?
So what's to be done?
One of our local forces told us there is a problem because of the way the Home Office counts crimes.
Metal theft is not currently recorded as a specific offence.
Joining me for our first Sunday Politics will be the Conservative's spokesman for the West Midlands, James Morris, the MP for Halesowen and Rowley Regis, and the Labour MP for Walsall South, Valerie Vaz, who sat as a Deputy District Judge before entering Parliament.
And of course I hope you will be with us too, from 12.00 on BBC One on Sunday 15 January 2012.