Stained glass window to mark Queen's Diamond Jubilee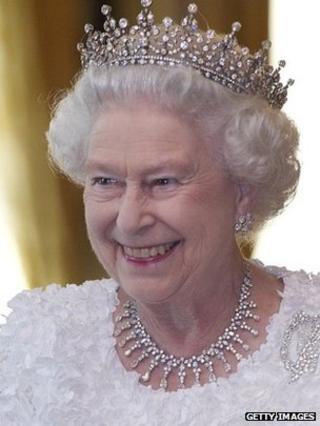 Michael Ellis MP has a great love of the monarchy and all things constitutional so it's no surprise that he's also chairman of the all-party parliamentary group on the Queen's Diamond Jubilee.
Its aim is "to support and encourage the observation and celebrations surrounding the occasion", which will be marked in the summer of this year.
And if you're going to have a party - you need a present.
So Mr Ellis and his group have successfully persuaded Members of Parliament and the House of Lords to stump up £85,000 in just two months for a stained glass window in Westminster Hall.
"I was being shown around Westminster and I was told that for the Silver Jubilee in 1977 MPs got together and made a donation towards a fountain which is below Big Ben," Mr Ellis told the BBC's Week in Westminster programme.
"For her Golden Jubilee they and members of the House of Lords funded a sundial.
"I asked what was for the Diamond Jubilee and my question was met with silence."
Jubilee celebration
So the MP for Northampton North and his committee have commissioned a stained glass window which will fill the window over the north end of Westminster Hall.
"It will be an eleven and a half foot depiction of her coat of arms," Mr Ellis tells us.
"The idea is that it'll be opposite to her father's coat of arms which are on display in a window commemorating those who died in the Second World War".
The work is being carried out by a company in north London which repaired the stained glass at Windsor Castle following the fire there.
Some reports have suggested that a few MPs were reluctant to stump up for the window.
Mr Ellis will only say that there were plenty of willing donors.
"There was no need to use the whips," he maintains.
Royal legacy
The hall is one of the oldest parts of Parliament, it's a World Heritage site and a grade one listed building so getting permission to make any changes is no easy task.
However, Mr Ellis discovered that the clear glass presently above the north door is only 35-years-old, having been put in after an IRA bomb, so replacing it will be quite easy.
"The window can't be installed straight away because the stone work needs to be done so it'll probably be about a year before it's actually up.
"In the meantime we hope to have it on display at ground level for the public to see," says Mr Ellis.
"It's very exciting. What's important about stained glass is its longevity.
"There are stained glass windows that were put in during the 1100s which are still in excellent condition and the hope is that this one will be here for many years to come."