HS2 link to unleash 'held back' Birmingham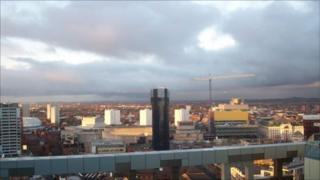 Birmingham business leaders say a new high-speed rail link which will cut the journey time to London to 49 minutes will "transform" England's second city.
The government has approved the controversial £17bn High Speed Two (HS2) link which could see a fleet of trains carrying passengers at 225mph (362km/h) between the two cities by 2026. Opponents say the planned rail line would cut through areas of outstanding natural beauty.
But Jerry Blackett, chief executive of Birmingham Chamber of Commerce, said the link to the city had been a long time coming.
"Birmingham has been held back by its infrastructure and in particular its transport infrastructure," he said.
"The most unique thing about the city is its geography - its location in the heart of the country. But this does not often feel like an advantage because of the difficulty of moving through and across the city.
"People's impression is of a congested M6. The HS2 scheme will help the city reach its potential and change people's perceptions of a city that's not quite working in transport terms."
A chamber survey of 200 of its members found 75% believed the link would benefit their business.
Mr Blackett said the rail link was expected to bring about 22,000 jobs to the West Midlands region as well as an additional 400 if Birmingham was chosen as the base for the railway's maintenance depot.
He said there were numerous reasons businesses supported the scheme, including research claiming it would bring £1.5bn a year to the regional economy.
"It's going to help businesses reach new markets in Europe and the growing high-speed network there; it will cut in half journey times to Leeds, Manchester and beyond - linking with the north as well as the south and it will also free up roads," he said.
Distribution, manufacturing and freight firms, universities, professional and financial services will be among the main benefactors, Mr Blackett added.
Train 'overcrowding'
He said, for example, the fast link would make it easier for law firms to take on business with London clients.
"It will also strengthen Birmingham as the natural meeting place for the UK and help the NEC remain as the top exhibition centre," he said.
The Go-HS2 group, which includes the chamber, airport and city council, said the 100-mile link was a "vital catalyst" for job creation and the future competitiveness of the region.
Birmingham Airport, which is extending its runway, says the rail link will bring it within 38 minutes of the capital "negating the need for expansion elsewhere".
Mr Blackett said the HS1 link, which links London St Pancras to the Channel Tunnel had brought huge benefits to the Kings Cross area and Kent.
He added Birmingham businesses had feared moves to "patch and mend" the existing West Coast Main Line would ultimately prove more expensive and would not increase vital train capacity.
"If you don't believe the economic benefits and forecasts, you cannot ignore the problem of capacity and that the existing train network will be full within six years," he said.
Trains to London were already often overcrowded at peak times, he added.
Under the plans, a new station will be built in Curzon Street, which is about a 15-minute walk from New Street Station, which is undergoing a £598m revamp.
Eamonn Kinally, a 20-year-old medical student, was among passengers at New Street who said the high-speed link to Euston was necessary.
Mr Kinally, who had travelled via Birmingham from Lancaster to see his girlfriend in Swansea, said his return journey had been "horrendous" and beset by delays.
He had arrived in Swansea after 02:00 GMT, more than two hours late, and on the way back missed his connection because of delays.
"The services do need improving massively," he said. "There's too many people and too few carriages. If I change at Manchester, people are standing in every carriage."
Matt Davies, who commutes to Birmingham from Telford, Shropshire, to work in IT, believed HS2 would bring economic benefits to the city.
"Having a direct link would definitely be a good thing for the city and for quite a wide area," he said. "It would also make commuting to London possible."
He said he would not want to commute himself but would use a high-speed link to visit friends and avoid driving on congested roads around London.
In November, Digby Jones, the former boss of business body CBI, said although the "excellent" HS2 scheme was necessary, it would make Birmingham "the northern most suburb of London" rather than boost its economy.
But Mr Blackett said the city was not worried by its proximity to London which instead offered "very great potential".
Paul Thandi, NEC Group chief executive, said the approval of HS2 was "fantastic news".
"High speed rail is of great significance to not only our business, but the West Midlands and the UK's future economy - undoubtedly helping with the economic recovery over the next decade - so we wholeheartedly support this decision," he said.
He said 70% of the three million annual visitors to the National Exhibition Centre and LG Arena were from outside the region and 10% from overseas so good rail links were essential.
Mr Blackett added it was "quite right" serious consideration had been given to the environment, but that he believed the scheme brought benefits such as reducing short-haul flights and road congestion.
However, he hoped the scheme would not be delayed further and the government would "get it through Parliament quickly".