Primate pet ownership in England 'on rise'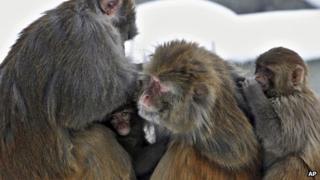 A West Midlands couple who sold a "crippled" pet monkey rather than take it to a vet have been disqualified from keeping animals for life.
The RSPCA, which has called for the keeping of primates as household pets to be banned, says such cases are all too common.
Disturbing film footage shows a marmoset named Mikey having difficulty walking on bent legs and being unable to climb.
The film was shown at Dudley Magistrates' Court where Lee Powell, 50, and Julie Ann Jones, 41, both of Sunderland Drive, Stourbridge, were found guilty of causing the animal unnecessary suffering.
They have each been ordered to do 300 hours' of unpaid work and pay more than £2,700 in costs and compensation.
They had denied knowing there was anything wrong with the four-month-old monkey, which they sold for £650 through a local newspaper advert.
RSPCA primatologist Lisa Riley said Mikey, who had to be put down, had advanced bone disease and seven fractures. His tail, which is used for balance, was broken.
Marmosets and other popular primates such as tamarins and squirrel monkeys are legally sold through adverts and pet shops as they do not require licences under the Dangerous Wild Animals Act (DWAA).
'Facial expressions'
But Dr Riley said they often went to homes where they were typically kept alone in parrot cages or aviaries. Many were without sunlight and proper nutrition, which made metabolic bone disease a common problem.
She believes primates should simply not be kept as pets.
"Primates are so complicated and have such complex needs and most primate owners, unless they have very specialist training, cannot look after them properly," she said.
Dr Riley said crucially primates needed to live among their own species.
"Primates have highly complex social behaviour. They use facial expressions, gestures and postures to communicate and need social interaction with their own kind," she said.
"They learn this primarily from their mum and others in their group and grow in this way."
Dr Riley said this lack of understanding was demonstrated by owners who made their pets "smile" like humans, but primates bared their teeth to show fear or aggression.
The RSPCA has called for a ban on primates being kept as pets for a number of years but says the practice, as well as complaints about their welfare, have increased.
The charity and Wild Futures believe between 2,485 and 7,454 primates are kept in homes in England but say this a "conservative estimate".
'Self harm'
Between 2001 and 2010, RSPCA inspectors dealt with 315 incidents relating to pet primates, involving 645 animals.
"Welfare issues" were identified in 50% of incidents and the charity took legal action in six cases, resulting in convictions in two.
Proportionally, complaints about primates were four to 12 times higher than for more common pets, the RSPCA said.
"Primates have not been through thousands of years of domestication like dogs, they are wild animals," Dr Riley said.
"It's probably because of their faces that people relate to them.
"They are part of our evolution. They show emotions and have quite a lot of human-like behaviour that draws people in.
"But I think people have no idea what they are getting into."
The charity sees "different trends", such as an interest in meerkats which have appeared in cartoons and recent ad campaigns.
"The RSPCA got a lot of calls asking whether meerkats make good pets," Dr Riley said.
The senior scientific officer added nutrition was a "massive issue" because of primates' special diets.
For example, marmosets and tamarins sought gums, resins and small vertebrae in the wild, yet as pets were often fed sugary fruit or even junk food.
Some pet primates showed psychological problems, such as "self-harming," she added.
"They have the capacity to suffer so much more than other animals because of their brain development."
Primates are protected under the Animal Welfare Act and those listed under the DWAA require licences from local authorities.
'Extremely concerned'
The Department for Environment Food and Rural Affairs (Defra) said it brought in a code of practice for primate keepers in 2010.
A Defra spokeswoman said: "Primates are wild animals and have specific needs because they are socially-complex and long-living.
"By law their needs must be met so they don't suffer, and we advise all private keepers to follow our guidance."
However, Dr Riley said DWAA licensing saw "widespread non-compliance" of 85 to 95%, making it impossible to calculate the number of owners.
Animal charities also argue Defra's welfare code is "non-binding" and few people know about it.
Shropshire MP Mark Pritchard called for a ban on primates as pets in 2008 and the matter will be raised in the Commons again by Sheryll Murray on 18 January.
Mrs Murray, the Conservative South East Cornwall MP, will push for a ban.
Dr Mark Jones, executive director for Humane Society International UK (HSI UK), said having the issue raised again was "welcome" but does not believe it will lead to ban, such as as exists in countries including the Netherlands and Hungary.
HSI UK is instead working towards submitting evidence for the review of Defra's welfare code in 2015.
Dr Jones said he was "extremely concerned" about welfare issues of primates during their capture, sale, transportation and care.
He said although international trade in primates was regulated, endangered animals were still being sold for the pet trade.