History of 'domestic' calls at Horden shooting house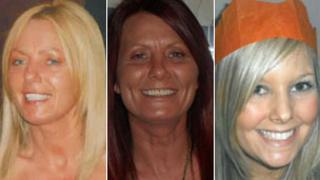 Police were called to four domestic-related incidents at a County Durham house where a man shot dead three women before killing himself, officers said.
Michael Atherton, 42, shot his partner Susan McGoldrick, 47, her sister Alison Turnbull, 44, and her niece Tanya Turnbull, 24, in Horden on Sunday.
Durham Police confirmed between 2002 and 2004 they were called to four incidents, but no charges were brought.
They said they were satisfied the incidents were handled appropriately.
Earlier Susan McGoldrick's daughter Laura, 19, who saw her mother shot and escaped the house, paid tribute to her "beautiful and gorgeous mam".
The Durham force said the last time it had contact with the family was in September 2008 when Mr Atherton was alleged to have threatened to shoot himself.
Durham Police said two of the four incidents it dealt with resulted in arrests.
'Volatile relationship'
The first was in July 2002 when Mr Atherton was arrested to prevent a breach of the peace following an argument between himself and Ms McGoldrick.
In April 2004 he received a police caution for common assault on Ms McGoldrick after returning home in an intoxicated state.
Police said Mr Atherton had denied threatening to shoot himself in 2008 and after initially being arrested to prevent a breach of the peace he was released.
Durham Assistant Chief Constable Michael Banks said: "As many people know, Mr Atherton and Ms McGoldrick had what might be described as a volatile relationship.
"However, I am satisfied that these incidents were dealt with appropriately at the time and apart from the incident referred to in 2008, police have not been called to the family home for more than seven years.
"There may well have been other incidents in those intervening years; however, if there were, the police were not informed."
Prior to the incident on Sunday, Mr Atherton had been out drinking, while Ms McGoldrick was out separately with a group which included her sister and niece.
After they all returned to the semi-detached home in Greenside Avenue, a row broke out.
Mr Atherton then went outside to get his shotgun, which is thought to have been stored in his car because he planned to go on a rabbit shooting trip the following day.
An inquest into the deaths was opened and adjourned on Thursday.