Joanna Lumley backs long distance animal transport ban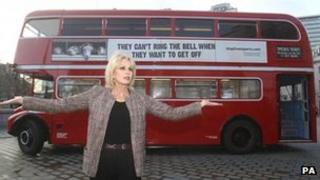 Actress Joanna Lumley has backed a campaign to end long distance animal transportation.
Compassion in World Farming, which launched its campaign in London's Trafalgar Square, wants an end to "the horrors of the live export trade".
It said 80,664 sheep, calves, pigs and goats were exported to the continent in 2011. The only UK port used for live animal exports is Ramsgate, in Kent.
The National Farmers Union said shipments were strictly controlled.
'Cramped conditions'
A campaign against shipments from Ramsgate has been backed by Thanet District Council.
Ms Lumley said: "The numbers involved in live exports is shocking. While we are part of the EU, we are a country in our own right and we need to act on this now.
"2012 is the year to make a change. We need to raise the price at the ports, so that it is more profitable for farmers to have their animals slaughtered close to their own farms."
She added: "They [animals] can't get off, unlike human beings who can just ring the bell and jump off the bus once they've reached their short destination."
Compassion in World Farming claimed it had found sheep being transported across Europe in cramped, overloaded trucks with no water.
But speaking in November, NFU spokesman Mr Frank Langrish, who raises Romney Marsh lamb in Winchelsea, East Sussex, said exports were strictly controlled.
"The vehicles they travel on are superb. They are fitted with drinkers and fans to control the temperature," he said.