Hospice's joy at Duchess of Cambridge patronage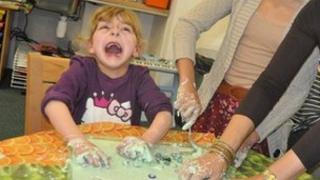 The news that the Duchess of Cambridge is to be royal patron of East Anglia's Children's Hospices (Each) has been described as "wonderful".
Chief executive Graham Butland said the charity was "honoured and extremely proud", and "thrilled to be able to finally talk about it".
"I can't say why she's chosen us, but I'm delighted she has," he said.
Catherine Middleton chose Each after a private visit in November, but staff were sworn to secrecy for two months.
The charity supports children with life-threatening illnesses in Essex, Cambridgeshire, Norfolk and Suffolk.
Each's head office is based at its Milton hospice near Cambridge, but it also runs hospices in Ipswich, and Quidenham in Norfolk.
The organisation provides support for families in their own home, in the community, or at one of the hospices.
'Genuine interest'
Mr Butland said news of the duchess's interest in the charity's work came "right out of the blue".
"I was away when the news came through," he said.
"My deputy texted me and said 'you're never going to believe this', and he was right, I didn't.
"It was such a surprise that she wanted to come and visit us and, following on from that, an even bigger surprise that she wanted to become patron."
Josie Dwyer, head of palliative care services at the hospice met the duchess during her visit.
"She came to the playroom and met some of the children," she said.
"They were thrilled because one of the things they love is to dress up, and dressing up as a princess is one of their favourites.
"She sat down with us and showed a genuine interest. They told her about their artwork, and were very comfortable with her."
Parents Charlotte and Grant Clemence also met the duchess.
The couple were supported by Each in the days before their baby daughter Fleur died from a rare heart condition.
"The duchess... was really interested in our story and experiences with Each," Mr Clemence said.
"[She] showed genuine interest to all the families and staff she met and it really will be a great boost for Each."
Mrs Clemence added: "She was so wonderful - really empathetic - and you felt so comfortable in her presence."
A spokesman from St James's Palace said the duchess's decision to support Each reflected her interest in supporting "very ill and vulnerable children and young people".