Nottingham and Leicester take opposite views on parking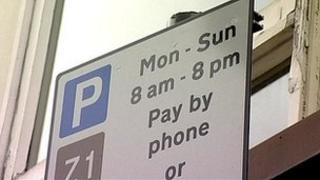 The issue of managing parking to help the economy preoccupies many councils but two neighbouring authorities have taken opposite routes.
In November, Nottingham City Council introduced evening and Sunday charges to "manage spaces" - and faced criticism from restaurants and even churches.
But at the same time Leicester City Council opened up 300 free evening spaces with the explicit intention of helping the night-time economy.
Officials in Nottingham insisted their policy was needed to stop some motorists taking up spaces for long periods.
They maintained this would benefit firms and attractions by keeping parking clear for short-stay visitors.
Best solution
But protests from city centre churches resulted in an offer of reduced price parking permits for worshippers.
Now some traders have called on the council to suspend the charges while a study into their economic impact is completed.
Chris Bulaitis runs a bistro near the castle and is a member of the We Are Nottingham business group, which is carrying out the study.
He said: "Any negativity that affects costs at the moment is going to be taken into account by customers who will think 'if I have to pay that £2, £3 to park then I would rather not park and I will have to miss out'.
"I think Nottingham City Council should look at reversing their decision until the research which has been commissioned by private business in both the leisure and retail sector comes up with the defined solution as to what would be the best way forward for parking for all parties involved."
Parking 'essential'
Nottingham City Council's portfolio holder for planning and transportation, Jane Urquhart, said they would listen to feedback and welcomed the business group's study on parking.
"There are parts of the city that are being affected in a greater way than others and I think we will be flexible enough to say there might be a differential impact, so we may well make alterations," she said.
"But I'm not going to come to a prejudgement about the overall conclusion now without having a look at the report."
She also admitted the change was in part "financially based" but did not yet have figures as to how much it had brought in.
In Leicester, evening restrictions on some loading bays and double yellow line areas have been altered for a trial 18-month period.
Deputy City Mayor Rory Palmer said: "We are committed to helping improve the city's night-time economy by encouraging more people to enjoy what the city has to offer in the evenings.
"Residents and businesses have made it clear that more on-street parking is essential in achieving this.
"We want to make it easier for people visiting the city centre in the evenings to find a parking space in a convenient location."