Jenny Hill on Breakfast: 'Great fun and unpredictable'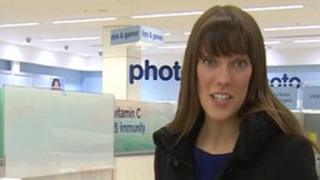 No two days are ever the same! This year Jenny has covered the Japanese tsunami, the August riots and the wedding of Prince William and Kate Middleton.
Jenny's broadcasting career began at BBC Radio Jersey, on the island where she was born and grew up.
After reporting and presenting at Central News agency in Birmingham, she returned to the Channel Islands to work as a presenter and reporter for the BBC's new TV operation there.
"It was an exciting time. The operation was new and set up on a shoestring. We all got used to reading the news while staring at an old toilet. The studio was a hastily converted room at the back of BBC Jersey!"
She also covered news in Guernsey and the other Channel Islands - often commuting by plane.
"It was all a bit hairy on stormy winter mornings - approaching the runway sideways in a tiny inter-island plane."
Jenny then moved to BBC Look North in Hull, first as the district reporter for Grimsby then as a presenter and reporter based in Hull.
One of her most interesting assignments here involved a week filming in Iceland, which had its ups and downs.
"The local delicacy was rotting shark meat. They serve it up with a glass of liquor which was strong enough to strip paint - but not strong enough to get rid of the awful taste of putrefying fish."
In 2006 Jenny moved down the M62 to report and present for BBC Look North in Leeds, becoming the BBC region's crime correspondent.
She then started working for the national BBC, reporting on the evening TV news bulletins before starting work at Breakfast.
"Breakfast is great fun - not to mention unpredictable. I've given up trying to guess what each day will bring."
During her time on the programme, Jenny has reported on both major stories in the UK and abroad.
"It's a great team at Breakfast and while I don't think I'll ever get used to the early alarm calls, working here is always great fun."