Horden shooting: Daughter saw mother shot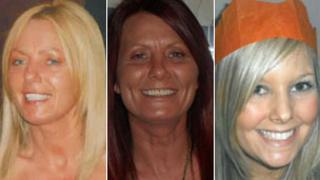 One of three women shot dead in a house in County Durham was killed in front of her teenage daughter, police have said.
Susan McGoldrick, 47, was shot by her partner Michael Atherton as she stood next to her 19-year-old daughter Laura, who escaped the house in Horden.
Mr Atherton, 42, also killed Susan McGoldrick's sister Alison Turnbull, 44, and niece Tanya Turnbull, 24, before turning the gun on himself.
An inquest into the deaths was opened and adjourned on Thursday.
Prior to the incident, Mr Atherton had been out drinking, while Ms McGoldrick was out separately with a group which included her sister and niece.
After they all returned to the semi-detached home in Greenside Avenue, a row broke out.
Mr Atherton then went outside to get his shotgun, which is thought to have been stored in his car because he planned to go on a rabbit-shooting trip the following day.
Speaking after the inquest, Det Supt Paul Goundry, from Durham Police, said the shooting was over in "moments rather than minutes" and was witnessed by Ms McGoldrick's daughter, Laura.
'Tragic time'
Laura McGoldrick, from another relationship, was injured by pellets from the shotgun but ran upstairs and escaped through a window with her boyfriend.
Her 17-year-old brother Michael heard shooting and left the house, as did a middle-aged friend of the women.
Det Supt Goundry said police had recovered the murder weapon, another gun from the car and other firearms Mr Atherton kept legally in a locked cupboard.
He said it was not thought that the shooting was premeditated.
"We have spoken to health professionals and [Mr Atherton's] own GP," Det Supt Goundry said.
"There is no indication from any witness that he was suffering from any mental illness or depression.
"While I say I understand what happened in the house, I still do not understand why.
"The focus of my investigation has to be why did a minor domestic argument turn into this tragedy?"
He added that the family was fully supporting the investigation.
"They are a very close knit family and are pulling together unbelievably in what can only be a tragic time."