Storms leave thousands without power across England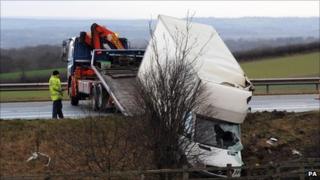 Thousands of homes and businesses in England have spent the day without power after areas were hit by winds of more than 100mph (160km/h).
About 2,000 properties are without power in the East and West Midlands after supply was cut by falling trees and wind-blown debris.
A woman and 10-year-old boy were taken to hospital after a tree fell on their car in Shenley, Hertfordshire.
A wind gust of 111mph (178km/h) was recorded at Great Dun Fell in Cumbria.
The Met Office said the gust recorded at 2,780ft above sea level on Wednesday night was the highest wind speed recorded during the week.
Winds of 93mph (149.6km/h) were recorded at High Bradfield, near Sheffield.
'Battered by weather'
Squally conditions have caused turbulent air and intense showers around the country, a Met Office spokesman said.
However, no severe weather warnings remain in place for England.
BBC weather forecasters said strong winds would persist until early evening on Thursday, with 60 to 70mph winds on north-western coasts. Winds would continue to ease overnight and under clear skies it will be a chilly night, they said.
Forecasters added it would be the last day of the windy spell.
Ambulance crews were alerted after a tree fell outside Shenley Primary School at 07:50 GMT.
The woman and boy suffered minor injuries, the East of England Ambulance Service said.
Fire crews had to cut two women free from their car after a tree fell on to it in Eaglescliffe on Teesside. Neither of the women was seriously hurt.
Western Power Distribution said on Thursday morning 6,000 properties in the West Midlands and 10,000 premises in the East Midlands were without electricity.
By 17:30 all but 500 properties in the East Midlands had had supply restored, while a further 1,500 properties in the West Midlands remained without power.
The Stoke area was the worst affected, with 800 customers without power.
The company said about 7,500 of its 2.5 million customers in south-west England saw power cuts at various points on Thursday because of the weather.
"We have been rather battered by the weather," said a spokeswoman.
'Almighty bang'
Up to 1,000 homes in Salisbury, Wiltshire, were without electricity at various times throughout the morning, after power cables came down due to strong winds.
Fallen power lines also left dozens of homes in Allendale, Northumberland, without electricity.
Leicestershire Police said a number of trees came down on the A46 earlier, blocking it in both directions.
"We are advising motorists to remain cautious on the roads, especially as it gets dark," a spokeswoman said.
Suffolk Fire and Rescue Service warned people not to travel after dealing with 60 fallen trees as well as power cables that have come down.
Two people suffered minor injuries when a window of a train was smashed by falling cables on the Ely to Littleport line in Cambridgeshire.
Passenger Jo Smith, 55, from Littleport, said: "There was an almighty bang down the side of the train.
"One of the windows had come down completely."
A First Capital Connect spokeswoman said about 150 people on the train were transferred to buses.
In Warwickshire, the crew and passengers of a train helped move a tree blown across a railway line.
Firefighters in Chingford, east London, rescued residents who became trapped inside a house after a tree fell on the building.
A spokeswoman said: "Two fire engines, a fire rescue unit and around 15 firefighters attended the incident.
"They used a saw to cut away some branches and four people were then able to leave the house."
Flood warnings
London Fire Brigade said it was among a string of wind-related incidents across the capital overnight, where gusts also blew a wind turbine in Barking, east London, and scaffolding in Tavistock Square, central London, into "precarious positions".
A school in Norfolk was closed after severe winds blew solar panels off the roof, with one smashing through the glass ceiling of the boys' toilets.
Several of the 100 panels being fitted to the main building at Acle High School were blown off by gusts overnight.
Two other schools in Norfolk have also been closed due to power cuts caused by wind damage.
Hilbre High School in Wirral, Merseyside, will be shut until Monday after high winds damaged its corrugated metal roof.
Merseyside Fire and Rescue Service said it received 33 weather-related calls between 18:00 GMT on Wednesday and 14:30 GMT on Thursday and at least eight calls involved fallen trees.
North Yorkshire Police urged motorists to make only essential journeys as the whole county experienced "severe weather" while fire and rescue services have dealt with flooding at homes in the Skipton area.
Gale-force winds forced the closure of the QEII Bridge, which links the M25 between Essex and Kent, for the second time this week. The bridge has since reopened.
The Environment Agency has issued number of flood warnings in England.