Man extradited over Crete attack on Robert Hughes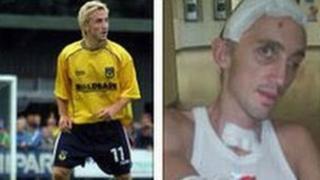 A 22-year-old man from Surrey has been extradited to Greece to face charges for an attack in Crete which left a south London footballer badly injured.
Robert Hughes, 28, from Croydon, an ex-Oxford United player, was stabbed with a broken bottle and had his head stamped on, leaving him brain-damaged.
He needed three life-saving operations after the attack in June 2008.
Joseph Bruckland, from Hookwood, is the last of six men from Sussex and Surrey to be extradited.
The other five remain on bail in England but could now face trial within months.
Curtis Taylor, Daniel Bell, Sean Branton, all from Horley, in Surrey, Benjamin Herdman, from Worth, West Sussex, and George Hollands, from Reigate, in Surrey, were extradited to Greece in August 2010, but allowed back to the UK on bail pending Mr Bruckland's extradition.
All six are accused of serious assault, and were detained under European arrest warrants in December 2009 after declining an offer to return voluntarily to Greece.