Tunbridge Wells tree crash passenger 'saved by lighter'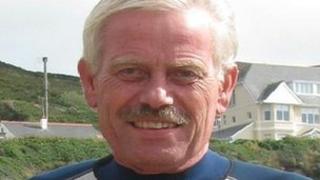 A passenger in a van that was crushed by a tree, killing the driver, was saved as he bent down to pick up a lighter, a witness has said.
Christopher Hayes, 51, died as a beech tree fell on the van cab in high winds in Tunbridge Wells on Tuesday.
Eyewitness Gary Heasman pulled the male passenger from the wreckage.
He said the "shocked" man told him his life had been saved when he dropped a lighter in the van and bent down to get it at exactly the time the tree fell.
Mr Heasman, who lives in Sherwood Road, near to the scene of the incident in Sandhurst Road, said: "Initially my daughter heard the noise of the tree coming down and then we could see out the window that it had gone straight across a van."
He said he and a friend ran over to the van and had not been expecting to see anyone inside.
'Shocked and panicked'
Mr Heasman added: "There were two people in there and one was sort of trying to get out so we just did our best.
"We tried to pull the door open but we couldn't do that so [we] just went back to the van and got a crowbar out and smashed the side window in and just pulled him out."
He said the passenger, who has not been identified, was "just shocked and panicked".
He added: "He couldn't sit still and we couldn't calm him down."
Police said the tree collapsed on to the cab of the van at about 12:25 GMT in the severe weather and Mr Hayes, from Tonbridge, died at the scene.
Married father-of-three Mr Hayes owned a building firm that had operated in the Tonbridge area for more than 30 years.
A post-mortem examination into his death is due to take place on Thursday.
The high winds, which are believed to have brought the tree down, also forced the closure of the QEII Bridge, linking the M25 between Essex and Kent for part of Tuesday.
The Port of Dover was also shut for about three hours and a 90-year-old woman had to be treated by paramedics after a tree fell on her house near Sevenoaks at about 06:50 GMT.