Teaching politics with Schools Questions and Answers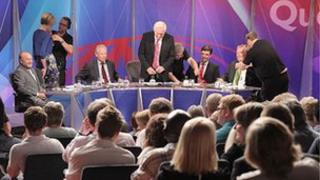 This year the finalists of the Schools Questions and Answers competition will host a live BBC debate, and get a tour of Parliament.
The idea is to move on from the popular Schools Question Time, where teenagers took over David Dimbleby's TV programme for the evening, and give schools a wider introduction to the world of Westminster.
For the new competition the BBC is teaming up with Parliament's Education Service and the Institute for Citizenship to offer hundreds of youngsters an exciting prize.
Six schools will be announced as winners on 23 January, getting the chance to host a BBC debate.
Nine finalists will also be invited to a Westminster day at Parliament.
Lively debate
I have just finished helping to judge the entries, and there was a fine crop from the South of England.
All schools had to stage a five minute debate on a topical subject and post their entry online.
Subjects ranged from the impact of high speed rail to censorship of the arts.
The best debates included teachers or governors but were obviously driven by the pupils themselves.
One other thing that caught my eye this year is the promotion of the chance for teachers to get extra training in teaching politics from Parliament itself.
Since Question Time has moved to Scotland there's a renewed interest in the work of the devolved governments, which is great, although I notice the competition refers to "the four UK parliaments" which is taking things a little far, not to say factually wrong.
Nevertheless, with Speaker John Bercow trying hard to get Westminster to reach out to the wider world - all corners of the UK - it looks like an excellent opportunity for both pupils and teachers.