Horden shooting victims' family 'devastated'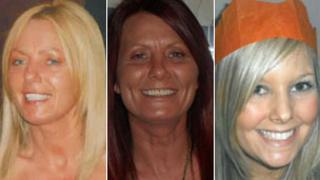 The family of three women shot dead at a house in County Durham by a man who then killed himself have said they are "devastated" by the "tragic events".
Michael Atherton, 42, shot his partner Susan McGoldrick, 47, her sister Alison Turnbull, 44, and her niece Tanya Turnbull, 24, in Horden on Sunday.
The IPCC has launched an investigation into Mr Atherton's firearm licence.
Mr Atherton's parents and son said they loved him but could not understand why he had done what he had done.
The statement from the women's family said: "We as a family would like to take this opportunity to express our devastation at the loss we have suffered following the tragic events of Sunday evening and would like to pay individual tributes to each of our much-loved family members whom we have lost."
'Fantastic mother'
They said they were "shattered" by the death of Ms McGoldrick, saying she was "so caring" and "adored" by family and friends.
Alison Turnbull, who had two children, Bobby and Tanya, was described as a "fantastic" mother, sister and partner and her family said they were "destroyed" by their loss.
And the family said Tanya Turnbull was a "funny" girl who was "always smiling" and planning to buy her first home with her boyfriend Michael who is "devastated".
A post-mortem examination revealed they died from shotgun injuries.
A Durham Police spokesman said Mr Atherton had been out drinking locally in the hours leading up to the shootings at the house in Greenside Avenue.
His partner was out drinking separately with a group of friends, which included her sister and niece.
Det Supt Paul Goundry said: "Mr Atherton produced a shotgun and in a matter of moments shot dead Susan, Tanya and Alison before turning the gun on himself."
Their bodies were found in different rooms in the semi-detached property.
'Truly devastated'
Mr Atherton's parents, Peter and Christine, said: "We and our whole family want to express our sympathies to the families of Susan, Alison and Tanya.
"Although we loved Michael we are sorry for his actions and don't understand why he did what he did. We dearly loved Susan as a daughter for over 20 years and are devastated by the loss."
Mr Atherton's 17-year-old son, also named Michael, said on behalf of himself and his 19-year-old sister Laura: "We are truly devastated. Me and my sister have lost the best mother in the world.
"We don't understand why my dad would do anything like this as he was such a good man. At the end of the day we have lost four loved family members and we hope they are all at peace now."
Three other people managed to escape, including a 19-year-old woman - named locally as Laura McGoldrick - who escaped from an upstairs window and suffered minor injuries.
Police confirmed the weapon used was a shotgun that was legally registered to Mr Atherton as part of his shotgun certificate.
They confirmed the force took away his guns following an incident in 2008 but they were later returned.
Nicholas Long of the Independent Police Complaints Commission said: "We have launched an independent investigation and are committed to fully examining the issues around the granting of Mr Atherton's firearms licence and subsequent renewals.
"I have determined that an independent investigation should be undertaken examining police involvement in the grant of a firearms licence to Mr Atherton."
The inquest opens on Thursday.