Colchester MP, Bob Russell, receives knighthood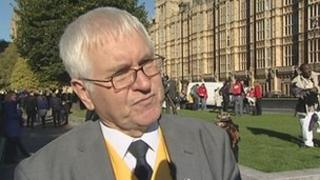 The 'Voice of Colchester' has a new title. It is now Sir Bob Russell, as the MP for the town has been honoured by the Queen.
He described it as: "A matter of great personal importance and significance to me."
Knighted in the New Year Honours list, Sir Bob Russell will have been Colchester's MP for 15 years next year and has received the honour for his public service.
Since 1971 he's been promoting the town that he loves and championing local causes.
'Bolt from the blue'
The Liberal Democrat, who's been involved in local politics for more than 40 years is among the region's most outspoken MPs, particularly since the formation of the coalition.
This is a significant honour for a man who for decades has been one of the most colourful characters on the region's political scene.
"Clearly in this role, any MP creates enemies as well as friends but I hope that nobody would ever say that I never did my best for the people I represent and my town," he says.
"I grin to myself because I have spent my entire adult life fighting the establishment but clearly, I have failed."
He says his knighthood recognises the work of those around him and that it came as a bolt from the blue.
In government he's not been frightened to speak out on issues close to his heart even though it has sometimes upset his leader.
Nick Clegg, speaking last year, described the MP for Colchester as "a unique institution".
He said: "He says what he feels and if he doesn't like what I do, or what the party is doing or what the government is doing, he says so. And I think people really, really respect that."
Clearly others do too.