London 2012: 'Rare' 1908 Olympic programme found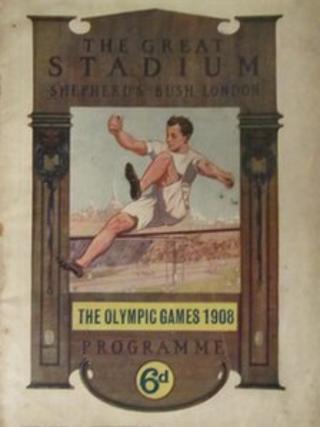 A rare programme from the 1908 London Olympics has been unearthed during a house clearance in Surrey.
Jeffrey Avery made the discovery while sorting through rubbish at the property in West Clandon near Guildford.
He said the programme was among a large amount of Olympic memorabilia and photographs stretching from 1908 through to the 1960s.
Mr Avery said the programme is thought to be worth about £500 but he plans to keep it as a legacy for his son.
The 22-page programme details names of competitors in events including the 110m hurdles, 200, 400 and 800m relay and contains adverts for Robinson's Barley Water and Pears' soap.
The 1908 Games were staged in the Great Stadium in Shepherds Bush, west London, after a volcanic eruption in Italy disrupted plans to hold the event in Rome.
Tarzan the Ape Man
Mr Avery, who runs his own house clearance and valuers firm, said: "We were clearing the garage of general rubbish and came across a tea chest and when I checked inside I discovered the collection amongst old newspapers.
"It was almost thrown away but I noticed the material and put it away for safe keeping.
"It was very exciting for me and I thought what a coincidence for it to turn up at this time with the Olympics just a few months away," he said.
The programme, found in November, has been authenticated online by auctioneer and valuer Aaron Dean, MRICS, who said: "From the images provided this does look to me to be an original 1908 programme.
"Such items are very rare and as such they have been copied, but from the limited images that I can access on such programmes this does appear to be ok."
Mr Avery said the house belonged to a professional body builder and close friend of Johnny Weissmuller - who won a total of five Olympic gold medals in swimming at the 1924 and 1928 Games.
After his swimming career Weissmuller became a movie star and, cast as Tarzan the Ape Man, he starred in 12 films. He died in 1984.
Sporting exhibition
Realising the significance of the find he contacted the chairman of the Maidenhead Heritage Centre and offered to loan the programme for its exhibition Our Sporting Life.
Mr Avery, whose business is based in Mitcham, south-west London, said: "He was so excited and I thought this is the time I should be keeping these things and letting other people see them so I agreed to let him borrow it for the exhibition."
He said while his team thought the programme could be worth about £500 "its historical value far outweighs its monetary value".
"This is not to be sold in my lifetime, it's for my boy and his legacy. I want to create a museum for my children. I am doing this for pleasure and displaying these things for the public," he said.
The Our Sporting Life exhibition will run from 6 April until 10 June and have a section dedicated to Lord Desborough, an Olympic fencer from Maidenhead, Berkshire, who was instrumental in organising the 1908 Olympic Games.
The programme will eventually be added to Jeffrey Avery & Associates' UK House Clearance Museum - a private collection of artifacts and interesting items kept for historical purposes and research, which is due to go online shortly.