Stilton pub cheese plan prompts court action threat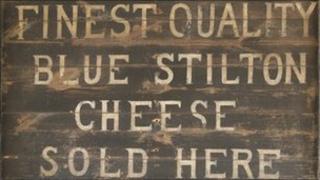 A row over the ownership of the name of Stilton cheese could end in court.
The blue veined cheese has been made in only five East Midlands dairies since it was given Protected Designation of Origin (PDO) status by the EU in 1996.
But a heated dispute has been reignited after a pub in the Cambridgeshire village of Stilton said it was making its own cheese of similar recipe.
A spokesman for the current makers said any moves to alter restrictions on the name would be legally challenged.
PDO status is designed to help regionally distinct food - such as Champagne and Parma ham - resist competition from similar products made elsewhere.
Commercial production
Stilton cheese is licensed to be made by only the handful of diaries in Nottinghamshire, Leicestershire and Derbyshire, with the industry estimated to be worth up to £50m a year.
It is generally agreed Stilton gained its name after being sold to travellers passing through the village in the 18th Century.
But that is where the consensus ends.
Campaigners in Stilton said archive evidence of a long history of cheese production entitled the village to use the name.
But current producers dismiss this, insisting cheeses produced in Cambridgeshire were of a different recipe.
EU rules state anyone interested in PDO status must commercially produce the product on a "regular and permanent" basis.
The Bell Inn in Stilton is aiming to sell its first Stilton recipe cheese, currently to be called Bell Blue, in March.
Public consultation
Landlord Liam McGivern said: "For us it is only fair and right that Stilton village should be able to produce Stilton cheese.
"I can understand the people who make it now are protective but all we want is the parish of Stilton to be included in the PDO.
"We are prepared to see this through and prepared to go to court if necessary."
Councillor Matthew O'Callaghan, who chairs the Melton Mowbray Food Partnership, said the development was "very worrying".
"There is no evidence blue Stilton was ever made in the village of Stilton. It is a Leicestershire product, it was developed in Leicestershire and it is part of our food heritage.
"They are trying to rob us of our food heritage."
He added: "I will fight it all the way if necessary, to the European Commission and the courts."
Defra, which has to recommend any change to the EU, said any moves to change the PDO boundaries would involve a public consultation.