Driver dies after tree collapses in Tunbridge Wells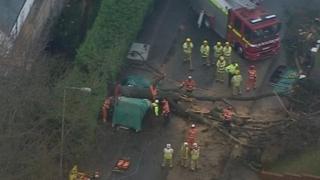 A van driver died when a tree fell on his parked vehicle in Kent as high winds caused widespread disruption across south-east England.
Police said the oak tree collapsed on to the cab of the van, which was parked in Sandhurst Road, Tunbridge Wells, at 12:25 GMT.
Another tree in the area is said to be in a precarious condition, police said.
A male passenger in the van is understood to have escaped unharmed. The road has been closed.
A Kent Police spokeswoman said the driver of the van, who is in his 50s and from Tonbridge, died at the scene.
She said the van was believed to have been stationary at the time of impact.
'Completely crushed'
Paul Harragan, who lives on Sandhurst Road, said police had cordoned off the area around the small white van.
He said: "The van is completely crushed and there's a man with a chainsaw cutting the branches. I think they are trying to cut around the van so they can get to it."
Elsewhere, high winds forced the closure of the QEII Bridge, linking the M25 between Essex and Kent, earlier. It has since reopened.
Ferry services in the English Channel were disrupted.
The Port of Dover has reopened after closing between 10:30 and 13:20 GMT.
Ferries from Ramsgate to Ostende were also affected.
Roads flooded
Elsewhere in Kent, a 90-year-old woman had to be led to safety by fire crews and treated by paramedics after a tree fell on her house near Sevenoaks at about 06:50 GMT.
Her husband, Desmond Bishop, 80, said a huge amount of damage had been done to their property at The Old Garden in Chipstead.
He said: "There was a tremendous crash and I thought we were lucky it hasn't come through the bedroom."
A local authority building inspector attended the scene to assess the damage.
Dungeness and Dover lifeboats were called at 05:15 GMT to help seven people stranded on a yacht five miles off Dover after the vessel lost power in 50-knot winds.
Five of the Liquid Vortex crew are suffering from seasickness and one crewman has a possible injury to his jaw and ribs after a fall.
Coastguard rescue teams from Margate and a rescue helicopter were requested to help the yacht, which was on its way from Southampton to London.
Skipper Charlie Sturrock said: "A very large wave, almost a freak wave, picked up over the back of the boat, picked our helmsman up and threw him straight into the wheel.
"He received injuries to his face and chest. They are not too bad but it completely bent and buckled the wheel and destroyed our steering system".