Police name gunman and three victims in Durham shooting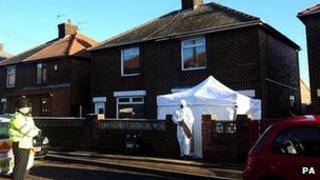 Three women and the man who shot them dead before taking his own life at a house in Horden, County Durham, have been named by police.
Michael Atherton, 42, his partner Susan McGoldrick 47, her sister Alison Turnbull, 44 and her niece Tanya Turnbull, 24, were found on Sunday.
Three other people escaped from an upstairs window, including a 19-year-old woman, who suffered minor injuries.
Police confirmed Mr Atherton was licensed to own six firearms.
Det Supt Paul Goundry, who is leading the murder inquiry - dubbed Operation Preston - said detectives were not looking for anyone else in connection with the deaths.
'Tragic event'
"It is very early stages in the investigation," Mr Goundry continued.
Firearms officers attended the scene after several calls reported people had been shot inside a house on Greenside Avenue in Horden, near Peterlee.
The victims' bodies were found in different rooms in the downstairs of the house, and paramedics confirmed all four were dead at the scene.
Assistant Chief Constable Michael Banks said the dead man was licensed to own six weapons, three of them shotguns and a further three "section-one" firearms.
He said the dead man had been a member of a local gun club, but said it was unknown whether any membership was still active.
"I can confirm that a resident at that address was the lawful holder of shotgun and firearms licences and we cannot confirm at this stage whether any of those weapons that were lawfully held have been used in this," he said.
"At this moment in time it is my understanding that the person was licensed for three shotguns and three section-one firearms."
He said section-one firearms were a particular category of firearms which require "greater authorisation than a shotgun licence".
The victims had been part of a group out celebrating the New Year and returned to the house shortly before the killings took place. However, no motive has yet emerged.
"This is a tragic event," Mr Goundry said. "We have four people who died and our thoughts and feelings are with their family and friends at this moment.
"I would like to reassure our communities that the police are in control of this incident.
"At this moment, we are looking for no-one else in relation to this inquiry."
It also emerged the Durham force had had "minor contact" with the family in the past and as a result a voluntary referral to the Independent Police Complaints Commission (IPCC) was being made.
A number of floral tributes were placed outside the semi-detached property.
The area around Greenside Avenue was described by police as a "close and very settled community".
Extra officers will be deployed in the area for the rest of the week in an effort to reassure residents.
The Countryside Alliance issued a statement after the incident.
David Taylor, the group's shooting campaign manager, said: "The Alliance was saddened to hear of the awful events in Peterlee and our sympathies are with the family and friends of those killed.
"The United Kingdom possesses the toughest and most stringent shotgun licensing laws of anywhere in the world, and the result is that tragic incidents like this one in Peterlee are extremely rare."