Devon and Cornwall train fare prices double to North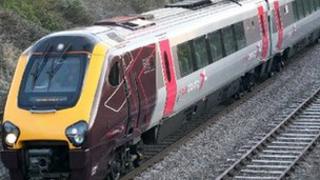 Some train tickets from Devon and Cornwall to the Midlands, the North and Scotland have doubled in price.
Train firm Arriva has scrapped its policy of allowing passengers to buy off peak tickets on any train.
It will now only allow passengers to buy an off peak ticket on trains leaving after 09:30, bringing services into line with the rest of its network.
Arriva said it had increased the number of advanced purchase tickets available on each train to compensate.
The change from Monday means that a return ticket on Arriva's Cross Country 06:45 service from Penzance to Glasgow will cost £427 instead of £213.
A Plymouth to Newcastle return on the 09:25 will now cost £367 instead of £177.
Rail tickets including unregulated fares, such as advance and business tickets, went up on Monday in England, Scotland and Wales by an average of 5.9% according to watchdog Passenger Focus.
Chief executive Anthony Smith said passengers should not have to keep paying for a "fractured, inefficient industry".
The Association of Train Operating Companies said money raised through fares helped pay for better services.