Campaign to stop unwanted gifts flushing down Yorkshire drains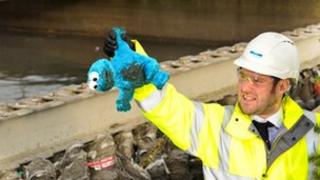 A water company is urging residents in Yorkshire not to flush unwanted gifts down the toilet or kitchen sink.
Yorkshire Water said a range of unsuitable items, including small Christmas trees, were arriving at its sewage works.
The company said it had removed more than 18,000 blockages from its sewers this year, with 37% of these being caused by fat, nappies and other waste.
The problem has cost the firm more than £2 million, said Yorkshire Water.
Since Christmas Day items such as cuddly toys, pieces of Lego, novelty socks and even a CD single by this year's X Factor winners have arrived at its treatment works.
A number of miniature seasonal trees, thought to have been discarded down manholes, have also floated into several sewage works.
Matt Thompson, from Yorkshire Water, said: "We're no longer surprised to see unwanted presents coming into our treatment works, it's always disappointing, particularly as we work so hard to educate people on the dangers of using our sewers as a giant rubbish bin.
"Just because you don't want Little Mix's record or those socks that grandma has lovingly knitted for you, it doesn't mean that we do.
"[We're asking] people to do the right thing and make sure they dispose of their rubbish in the correct way, rather than risk blocking our sewers and potentially flooding their own homes with sewage."