Swedish team rescued after Atlantic Challenge capsize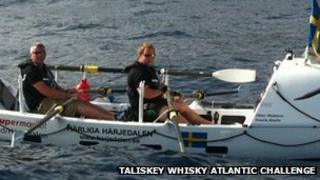 Two rowers have been rescued after their boat capsized in heavy seas in the middle of the Atlantic Ocean.
Falmouth Coastguard co-ordinated the rescue of the team which was taking part in the Atlantic Challenge race between the Canaries and Barbados.
A Maritime and Coastguard Agency spokesman said the men were picked up by a merchant ship about 08:00 GMT.
Devon-based Woodvale Challenge confirmed six of the 17 starting teams had now withdrawn.
Spokeswoman Gemma Campbell said the men who were rescued - Viktor Matteson and Fredrik Albelin from Sweden - were safe and well on board the merchant vessel Maj Danielsen which is on its way to Africa.
Sea sickness
Neither of the men was seriously hurt when their boat capsized, although Mr Albelin was thrown into the water and had to use oars to keep himself afloat.
Ms Campbell said of the original 17 teams to start the race, only 11 remain.
She said bad weather and heavy seas had been the main problem, with one team being forced to retire because of extreme sea sickness.
Another team pulled out because of technical issues with equipment.
"Everyone went into the race very well prepared," she said. "Sadly though, the weather has meant really big seas and although that's good for record breaking, it's been much rougher than the previous Atlantic Challenge."
Hugo and Ross Turner, 23-year-old twins from Christow in Devon, are part of a four-man team also taking part in the The Talisker Whisky Atlantic Challenge.
Along with Adam Wolley, 23, from Saxtead in Suffolk, and 22-year-old Greg Symondson, from Speen in Buckinghamshire, they appear on course to become the youngest four-man crew to cross the Atlantic.