New Year Honours: People from around England recognised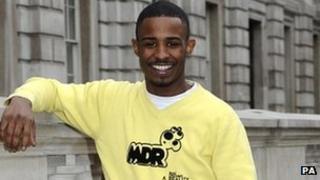 Community workers and famous names from sport are among people from England named in the New Year Honours.
Former Aston Villa chairman Doug Ellis is knighted, racing driver Nigel Mansell becomes a CBE and broadcaster Stuart Hall is appointed OBE.
Among those honoured for work in their own communities are an ex-gang member who now works with young offenders.
England's first black female mayor and the manager of a coastguard centre that is set to close are also honoured.
Lydia Simmons, who was born in Montserrat in the West Indies and came to the UK when she was 17, became mayor of Slough in Berkshire in 1984.
The former Labour councillor said the idea of being called Lydia Simmons OBE "sounded fantastic" but she stressed she had not entered politics for personal recognition.
'Very thrilled'
Mark Rodaway, manager of Portland coastguard centre in Dorset, said it was "an absolute honour" to have his work recognised by being appointed OBE.
Mr Rodaway has served as a coastguard for 22 years and was involved in the rescue of MSC Napoli, a freight ship which was grounded off the Devon coast in 2007 after being holed in a storm.
Chris Preddie, 24, whose cousins - whom he did not know - were convicted of killing 10-year-old Damilola Taylor in south London in 2000, is appointed OBE.
Mr Preddie, who turned his back on gang life in south London after his brother was shot dead when he was 16, is being honoured for services to young people.
"He [his brother] got shot four days after my 16th birthday. I realised it could be my life," he said.
"I went back to college and then did performing arts at university. I got into youth work and started working for Crimestoppers."
Irene Reid, 71, Lancashire's longest-serving lollipop lady, who has worked on the crossing patrol at Longridge C of E Primary School for more than 40 years, has been appointed MBE.
She said: "I feel like I'm getting an award for something I've loved doing for 43 years."
Geoff Stevens, 69, a councillor who has acted as compere at the Matlock Bath Illuminations since the 1960s, has been appointed MBE for services to the community in the Derbyshire town.
He said he was "very thrilled" and added: "I think the town has given me an awful lot and I've wanted to give as much back to the town as I possibly could."
'Great surprise'
Vivienne Evans, who has written several books on the history of Dunstable, also becomes an MBE.
The historian, who said her proudest moment was discovering the Bedfordshire town had been founded more than a decade earlier than had previously been believed, said: "I've enjoyed every minute working for and with Dunstable."
A Liverpool hairdresser who founded a company that has trained thousands of young stylists has been appointed OBE.
Peter Collinge, 84, began hairdressing on Richmond Street in 1942 and opened his first salon 10 years later.
"It was a great surprise and a great honour to hear that I would be receiving an award," he said.
A Surrey woman who founded an orangutan charity has also been appointed MBE.
Sue Sheward from Leatherhead set up Orangutan Appeal UK in 2000 after volunteering at an orangutan centre during a holiday in Borneo.
Peter Walwyn, 78, a six-time champion racehorse trainer whose horse Grundy won the 1975 Derby, becomes an MBE.
And one of the UK's most successful greyhound trainers has been appointed OBE.
Charlie Lister, 71, from Newark in Nottinghamshire, has won six Greyhound Derbies and almost every other major honour during a glittering career.
"I thought it was a bit of a wind-up when I first heard about it but it's good for me and it's good for greyhound racing," he said.