Atlantic Challenge youngest rowers cross halfway point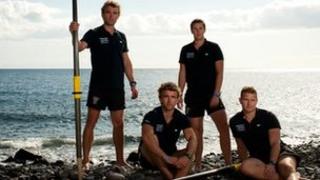 A team of rowers is more than halfway to breaking the record to become the youngest four-man crew to cross the Atlantic Ocean.
Adam Wolley, Greg Symondson and twins Hugo and Ross Turner are taking part in the 3,000 mile Atlantic Challenge.
They set off from the La Gomera in the Canary Islands on 5 December and aim to reach Barbados in February.
The four have a combined age of 91 and they are raising money for the charity Spinal Research.
Mr Wolley, 23, from Saxtead in Suffolk, said: "We had really high winds for the first two weeks and it was a real baptism of fire with 30-60 foot waves, so it was quick, but absolutely exhausting.
"The night rows have been pretty tough on us all and we've been hallucinating - I've had waves talking to me and Hugo and Ross have been seeing forests on the horizon and it's all quite funny."
Dehydrated meals
Hugo Turner, 23, from Exeter, has recovered from breaking a vertebrae in his neck five years ago, which is why they are raising money for the spinal charity.
Mr Symondson, 22, is from Speen in Buckinghamshire and the four met at Loughborough University.
The team is on course to arrive in the Caribbean in the second half of January.
Mr Wolley said: "We've been dreaming of all the mountains of food that [people back home] have got, while we've got our same, lovely, dehydrated meals which we're less than excited about."
The original field of 17 boats has seen five retire due to technical problems or sickness.
Hugh Wolley, Adam's father said: "We're not worried about them now they've got halfway and have got through the initial brutal sea conditions, so we're confident they're going to get there.
"We've already endured Adam cycling solo from London to Cape Town in 2010, so we're used to him travelling in uncomfortable places.
"We'll be off to Barbados to see them get in."