Metal thefts tackled with North East ID scheme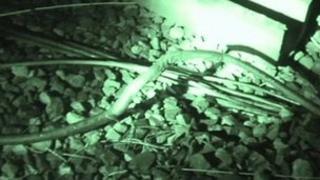 A scheme to tackle metal thefts by making it easier to trace sellers is being trialled in the north-east of England.
Northumbria, Durham and Cleveland Police are involved in Operation Tornado, which will run from Tuesday.
It is hoped 240 metal dealers will sign up to the scheme which will require sellers to have photo identification and a recent utility bill.
If it is successful in cutting thefts, it could be rolled out nationally.
Railway metal thefts have caused major disruption to travellers in the North East.
Metro operator Nexus said since April there had been more than 20 incidents of copper stolen on the Tyne and Wear Metro, costing more than £300,000.
As well as the three police forces, Operation Tornado involves the Association of Chief Police Officers (Acpo), the Home Office, British Metals Recycling Association and British Transport Police.
Acpo spokesman Ch Insp Robin Edwards said: "This is a problem that has been growing over the last few years and is linked to the commodity prices on the world market.
"It is quite a significant problem in the region. I think between the three police forces - Durham, Cleveland and Northumbria - the level of offending is between 5% and 10% of overall crime."