Wrotham sheep deaths: Kent Police arrest man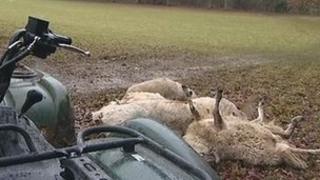 A man has been arrested over the deaths of 15 sheep thought to have been hit by a vehicle in a Kent field.
Eight sheep were found dead in a field in Wrotham last Friday and seven had to be put down.
Kent Police said the man, aged 24, was arrested on suspicion of criminal damage, in Bromley, south London.
He was bailed until January over the sheep deaths, but was being held in custody in relation to a separate offence, a police spokeswoman said.
Some of the sheep, owned by East Sussex farmer Chris Sargent, were heavily pregnant.
Mr Sargent rented the field in Wrotham Hill where he kept about 80 sheep.