Lynne Owens is new Surrey Chief Constable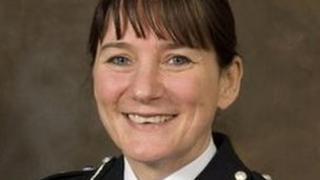 The Met Police Assistant Commissioner in charge of public order during the summer riots has been appointed Surrey's new police chief.
Lynne Owens is taking over the role of Chief Constable from Mark Rowley, who was appointed Assistant Commissioner at Scotland Yard in October.
Met Commissioner Bernard Hogan-Howe said he was sorry to see her leave.
He said: "Her work for the Met has been excellent and this appointment is a great achievement for her."
Ms Owens began her police career with the Met before serving as a senior investigating officer with Kent Police.
'Under no illusions'
She transferred to Surrey Police in 2002 where she served as a divisional commander and then temporary Assistant Chief Constable.
In 2008, she was awarded the Queens Police Medal for distinguished service in the New Year's Honours.
She moved to the Met Police in 2009 and took up the post of Assistant Commissioner a year later.
Peter Williams, who chairs Surrey Police Authority, said the force faced "major changes and serious financial pressure".
"It was clear that Lynne Owens is the right person to lead the force through these challenging times," he said.
Ms Owens said: "I am under no illusions as to the challenges we face.
"However, I am optimistic that, with the great people we have and our shared belief in putting the needs of the public first, we can continue to deliver excellent service."