Extra carriages for South West Trains rail services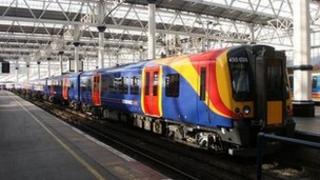 Extra carriages will be introduced on trains serving London and the South West, the government has announced.
The Department for Transport (DfT) said South West Trains services from London Waterloo would get the first of 60 additional carriages in May 2013.
Waterloo International Station will also be reopened for commuter services.
Services from Windsor, Weybridge, Portsmouth, Southampton, Eastleigh, Reading, Hounslow and Alton into Waterloo will be lengthened.
Additional services will also run from Reading, the DfT said.
The additional trains will use platform 20 at the former Waterloo International Terminal, which will come back into use from 2014.
'Sardine can conditions'
All the new services will be in place by July 2014.
Transport Secretary Justine Greening said: "Passengers travelling into Waterloo have to suffer some of the busiest trains in the country, with sardine can-like conditions on many peak-time services.
"These extra carriages will help ease those conditions, while opening an extra platform will provide space for additional trains to run.
"But our plans do not stop here. We are now embarked on one of the largest programmes of rail investment since the Victorian era and we expect to introduce further carriages on Waterloo routes and bring more platforms into use in the future."
The carriages, which will allow an additional 8,000 commuters to travel at peak times, are former Gatwick Express carriages which will be combined with refurbished trains from South West Trains' existing fleet.
The improvements agreed between the DfT and South West Trains will also see money invested in train depots at Wimbledon, Farnham and Clapham, as well as the creation of two new sidings by infrastructure operator Network Rail at Guildford.